HARD TRUTH TIME!
Most eCommerce SEO strategies are wrong. They are built on the wrong premises and cannot possibly work as desired.
This is what we want to highlight in this guide and help you create an SEO strategy for eCommerce sites that actually works.
Ecommerce SEO is fundamental for countless businesses from around the world. Just think about the fact that 23.6% of orders on eCommerce sites come from organic search, according to Business Insider. At the same time, SEMrush highlights that 37.5% of traffic for such sites comes from large search engines.
With such numbers, we cannot neglect the importance of eCommerce SEO. But, how do we build a strategy that works?
Well, there is a lot to be said so grab some coffee and let's get started. You are about to go on a ride.
Table Of Contents
ECommerce Keyword Research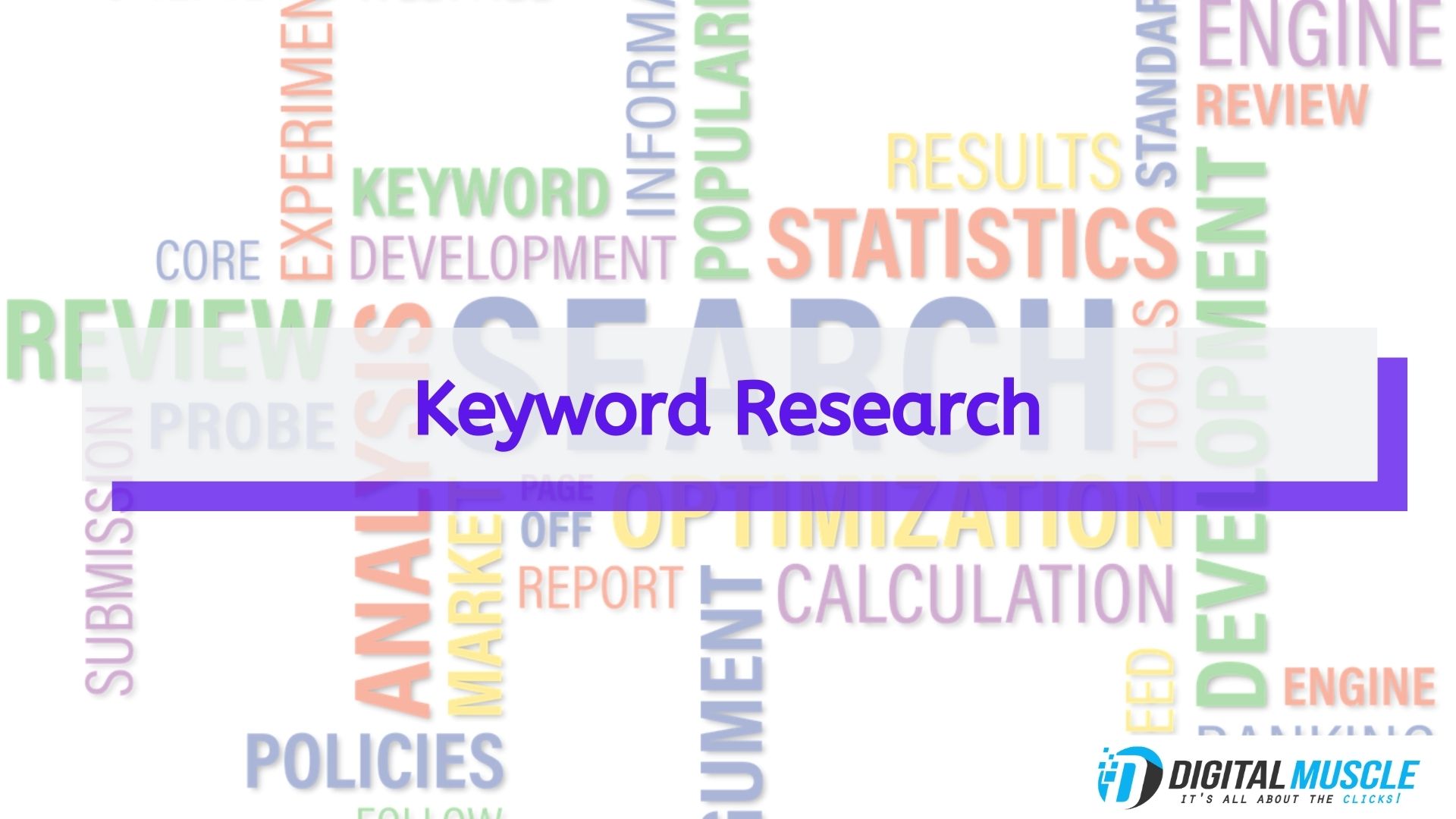 Keyword research for an eCommerce site seems simple. After all, if you sell t-shirts, you optimize for a keyword like "buy t-shirts", right?
Wrong!
Believe it or not, most eCommerce SEO best fstrategies fail because of optimizing for the wrong keywords. If you choose the wrong keywords, 2 things might happen:
The targeted keywords are very hard to rank for and it is impossible to reach page one.
The site ranks for keywords without much traffic and/or customers are not interested in buying.
Remember that 75% of people only visit sites from the first page of search results and increase your organic traffic. Due to this, you want to reach the first page. You do this with a good strategy based on the right keywords or you will appear in the search results for the wrong queries.
Buying Intent
The problem is that choosing keywords for an eCommerce site is not that simple. This is because you also need to factor in "buying intent". (Learn more about this here).
To keep it as simple as possible, buying intent means how interested someone is to buy, not just search volume, as some think.
Example:
When someone looks for "best Android smartphone", the individual is most likely researching information. There is a low possibility the search leads to a purchase. You should look for better keyword ideas.
When a person looks for "Google Pixel 4a", he/she is most likely shopping around. The possibility to buy is higher.
The Trick:
Buyer intent and search intent are directly correlated with average keyword CPC (cost per click). You can see the keyword's CPC with various page SEO tools.
When people want to spend more money on a specific keyword, it means that the keyword has a very high conversion rate.
So, how do you choose the best keywords for eCommerce? How do you learn about keyword difficulty and how do you figure out buying intent?
The following 2 strategies work for everyone that tries to find great keywords to appear in search results:
Competitor Research
Every eCommerce address has competitors. Hopefully, you know them. If not, check out this article:
11 Competitor Research Tools To Help You Find Your Competitors
The good news is that you can take advantage of the work that your competition did to find wonderful ranking opportunities.
Here's how you do that:
Type the keyword you consider in Google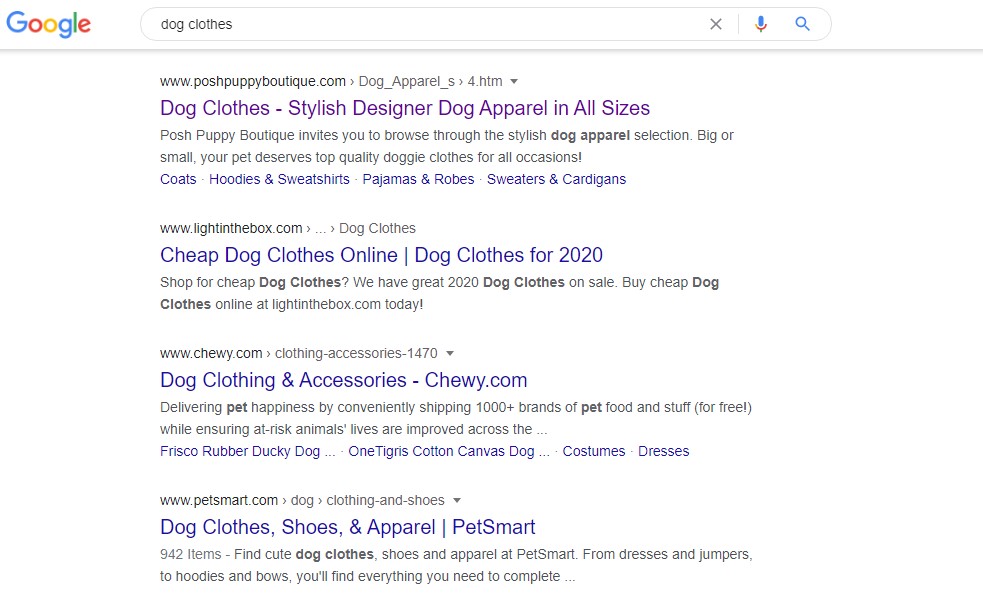 Then, visit the sites of your competitors. Go through the product and category pages to scan for potential keywords.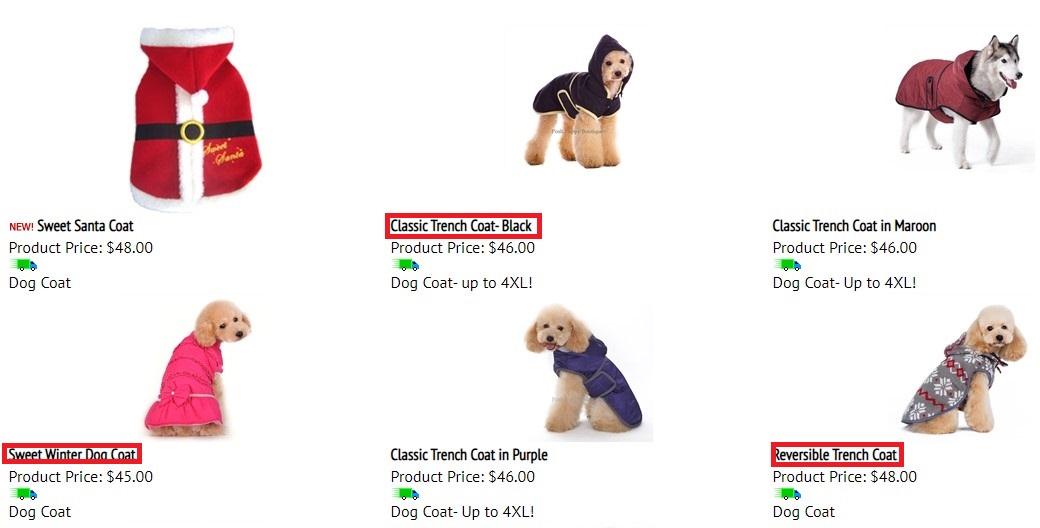 Write down what catches your interest. Also, pay attention to the navigation menu and the breadcrumbs used: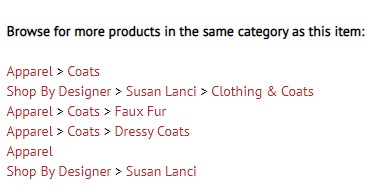 Do not blindly utilize the same keywords. At this stage, you just want to record them so you eventually figure out what to use.
The fact that the competition outranks you for some keywords does not mean that the best ones were chosen. In many cases, the competition just has much higher authority in the industry and naturally outranks you.
Amazon is a very good keyword research tool that few people use when doing competitor research.
The reason why Amazon is so effective is that it is filled with really high buying intent keywords. This is because people use Amazon search when they want to buy something. Few use Amazon for research purposes.
Let's use the same example as before to see how we can use Amazon to find very good keywords for eCommerce.
For starters, just type the keyword in the Search Bar.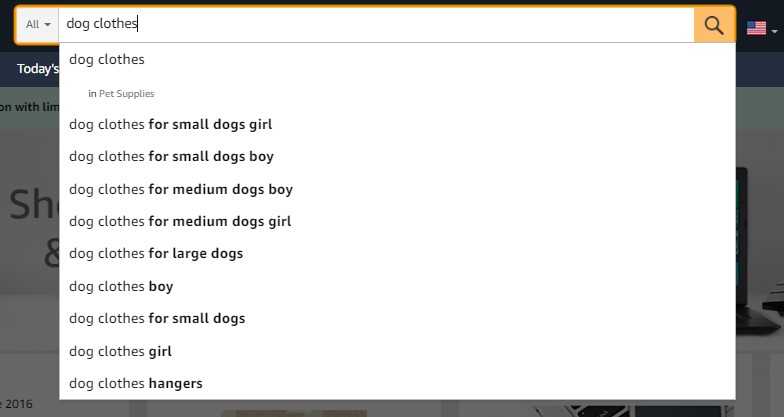 Amazon automatically offers search sugestions as you type, just like Google does. Those keywords you see there can be considered for your eCommerce SEO.
Using Amazon Search works well when you just have to optimize for a few products but what happens when you need to find keywords for hundreds? This is where the Amazon Keyword Tool helps, especially when choosing for a category page.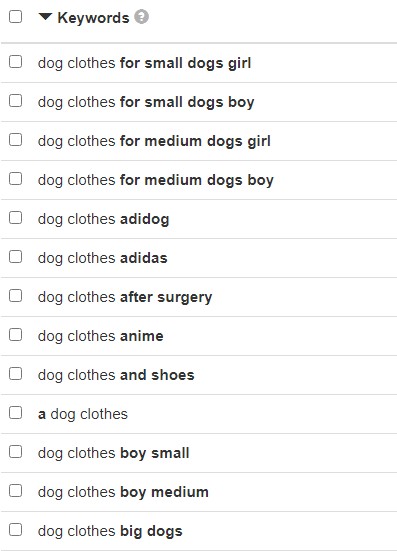 You can record all the potential keywords you get through this SEO tool and by now there is a pretty good possibility you found countless ones you can consider.
Choosing The Best Keywords
After you have a list of potential keywords, it is time to determine the very best ones. This is the crucial step in keyword research where many fail.
The goal at this step is to determine search volume, keyword difficulty, and buyer intent.
The Google Keyword Planner helps you to find CPC (useful to determine buying intent) and rough search volumes.
Add all the keywords you found and take a close look at "Suggested Bid". This is the CPC. When it is high, buying intent is high.
The trick is to find high CPC keywords when comparing with the other keywords. In some industries, $0.5 might be a very good deal. In others, it is too much. Usually, search volume and competition dictate CPC values.
Get back to your notes and write down buyer intent and volume for all the important keywords. Then, sort results based on organic search, difficulty, and buyer intent. Basically, you want to find keywords with high buying intent, high organic traffic, and low difficulty to use to optimise your category page and product page.
Ecommerce SEO Site Architecture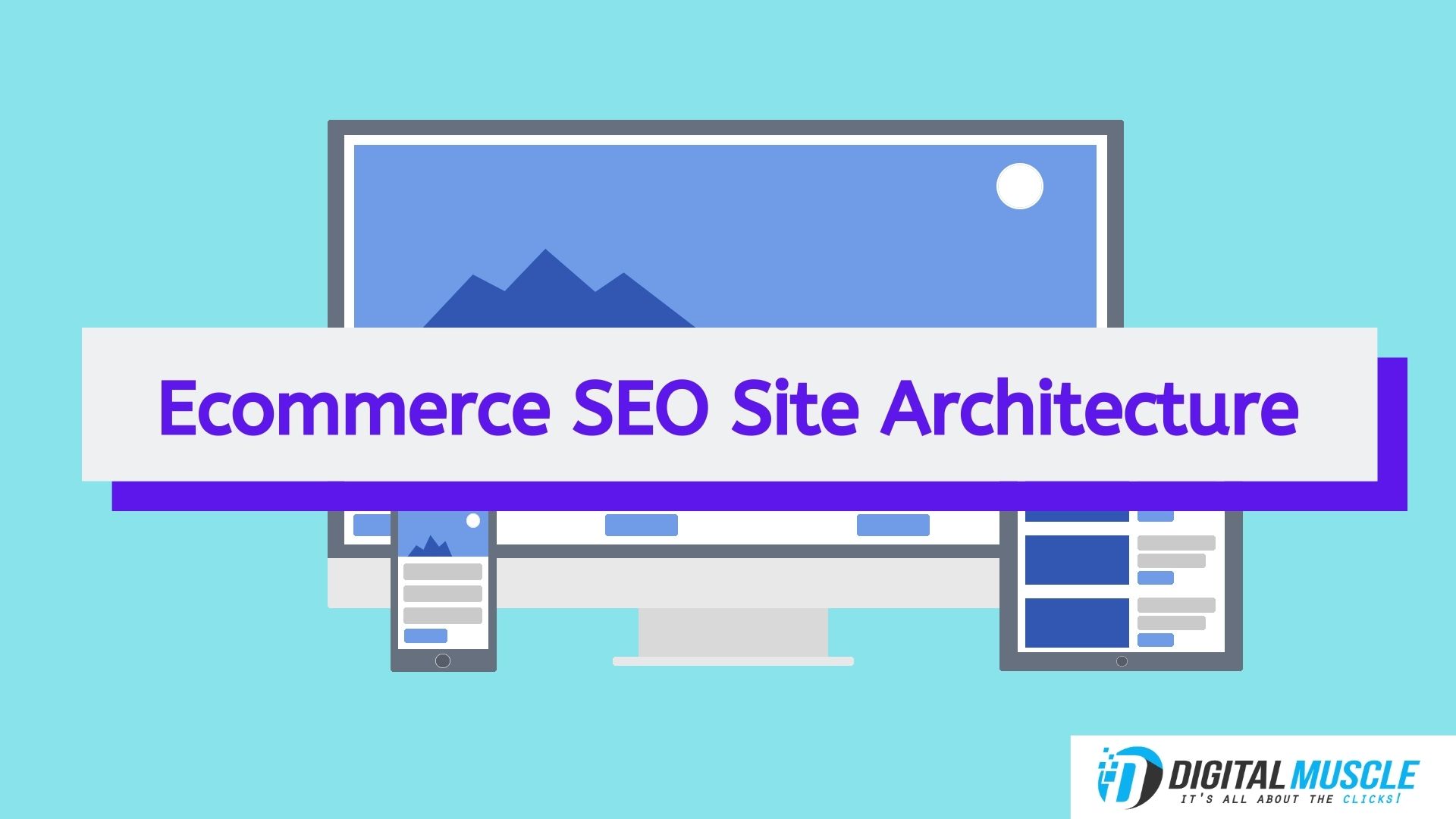 Site architecture (commonly known as site structure) means how pages are arranged and organized.
Every single SEO specialist knows how important the structure of a site is. For eCommerce online stores, it is even more important because such sites have numerous pages, products, and categories.
How pages are structured and organize affects UX (user experience) and Google rankings. To put it as simple as possible, the web page needs to be simple to use by site visitors. At the same time, it needs to be very easy for Google to find all relevant pages.
All this is difficult to do, especially when you keep adding and removing categories and products, thus creating an improved user experience. In a very short time site architecture can become very complicated.
Fortunately, just 2 rules have to be followed:
Structure has to be as simple and as scalable as possible.
Every single page needs to be accessible with just a few clicks.
You need the site to be as simple as possible because you do not want visitors to have to keep using the browser's back button and run in circles while not finding what they want. At the same time, you do not want to have to rearrange and reorganize the structure every single time a new category is added.
Remember that the site's homepage holds most of the link authority. When pages are only accessed through several clicks, a lot of authority is lost.
The most common site architecture problems for eCommerce sites are duplicate content and thin content. Many of these appear because numerous internal structure levels exist, like filters with few products. The same products can appear on other pages when there are too many attribute-focused pages present.
Let's take a look at the following example.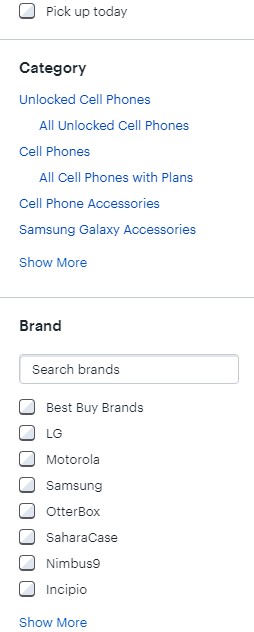 Every single filter leads to a new page with similar content. Some pages just include a couple of products. It makes no sense to have such pages indexed by Google.
Unfortunately, there are situations in which the appearance of such pages is unavoidable. For instance, you might sell too many smartphones and you need to have the filters in place for easy navigation.
The easiest possible way to deal with the problems of possible content duplication and thin content is to use "noindex" for them. However, this is not the ideal solution.
The best way to handle the situation is to first figure out if there are many search queries around product types, brands, and characteristics. If this is the case and you have enough products in the store, you can add content to the individual category, filter, and product pages. This makes them competitive and relevant. Pay particular attention to category pages.
Obviously, you would only create such extra content for the pages that are worth it, based on the Keyword Research you did.
If you feel your structure is not optimal or you want to change it to respect modern standards, we offer web design services to help you and we have a lot of experience with eCommerce businesses.
The key takeaway about eCommerce SEO website architecture: Not all structure levels should be optimized and indexed. You have to be strategic and put in the extra effort just for those that are worth it. This includes category pages AND product pages.
On-Page Ecommerce SEO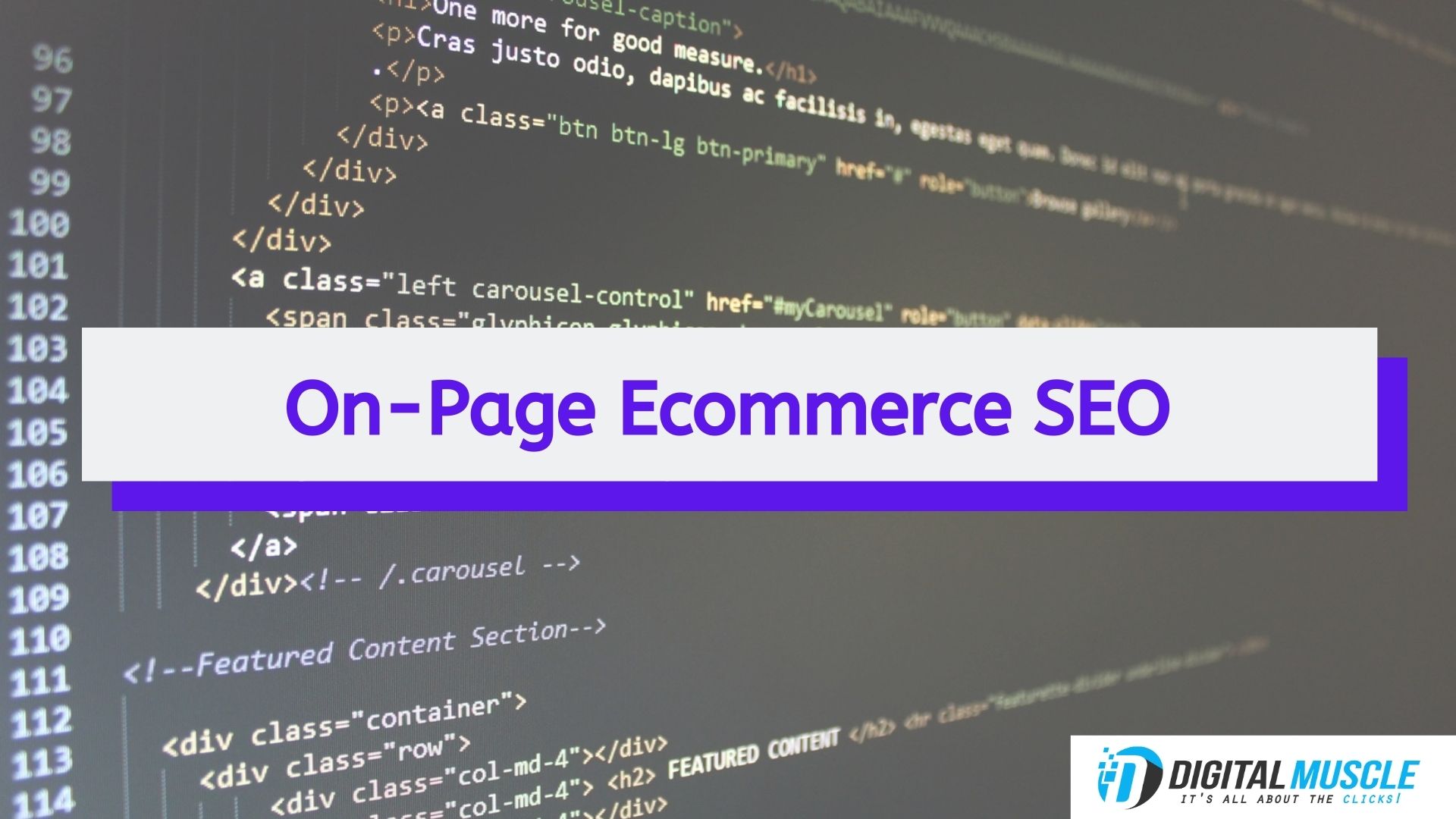 Sorry to tell you this, but after you set up the site architecture, the real SEO work starts. Now it is time to optimize the important product and category pages. These are the types of pages that will generate the most sales and organic traffic.
When optimizing product and category pages, pay close attention to the following:
Title Tags
The target keyword needs to be used in the page title tag and you have to add modifiers. By modifiers, we mean words that help with long-tail searches and buyer intent, like "deals" or "buy".
As an example, let's think about the keyword "gaming mouse". Instead of using a tag like "Gaming Mouse at Shop", you want to add a few words that people would naturally use when they search for a "gaming mouse".
You could add a title tag like "The best affordable gaming mouse for MMORPG games". Think about what people would use and you will come up with words like cheap, best, free shipping, deals, discount, and review.
Besides the modifiers, you should also consider magnet words. These are words that are often used by buyers that are very close to buying.
Google most likely uses click-through rate as a signal to rank pages. This is not officially confirmed but even if it is not, adding magnet words makes a lot of sense. Some examples include sale, low price, guarantee, and percentage off.
For the gaming mouse example above, on a category page, we could use a tag like "Gaming mice – 30% off and Free Shipping On Orders over $50".
Description Tags
Some time ago, the description tag was a very important on-page SEO ranking factor. Nowadays, it is not that important. However, the description tag is still very important for eCommerce platforms because it influences CTR.
The rules you follow with the title tag are the same you use the description tag. However, the big difference is that you have much more room to add some longer phrases.
An example of good meta descriptions to use:
"Get the very best prices on a top gaming mouse for MMORPG games. Free shipping is available for all orders plus extra exclusives."
Content
Warning: This will be time-consuming and hard. But… it is mandatory for high rankings.
On the relevant product and category pages, you have to add high-quality content. The problem is that the words you write need to take conversion rate into account.
Without going too deep into the topic, the most effective tactics to use are:
Longer content is very important and you need to go over 1000 words with eCommerce product descriptions. Google needs content to figure out what the product page is about. At the same time, in-depth page content will help the customer to know what will be bought.
It is not always possible to write over 1000 words for a page. This is why it is sometimes a good idea to write in-depth, long descriptions for the most important category and product pages on the site. Try to get at least 10 to 40 done, to begin with.
For instance, the product page for this coffee maker on Amazon features 712 words just in the description and information provided by the manufacturer. Add to this the number of words written by reviewers and questions answered and you go way over 1,000 words, most likely over many thousands.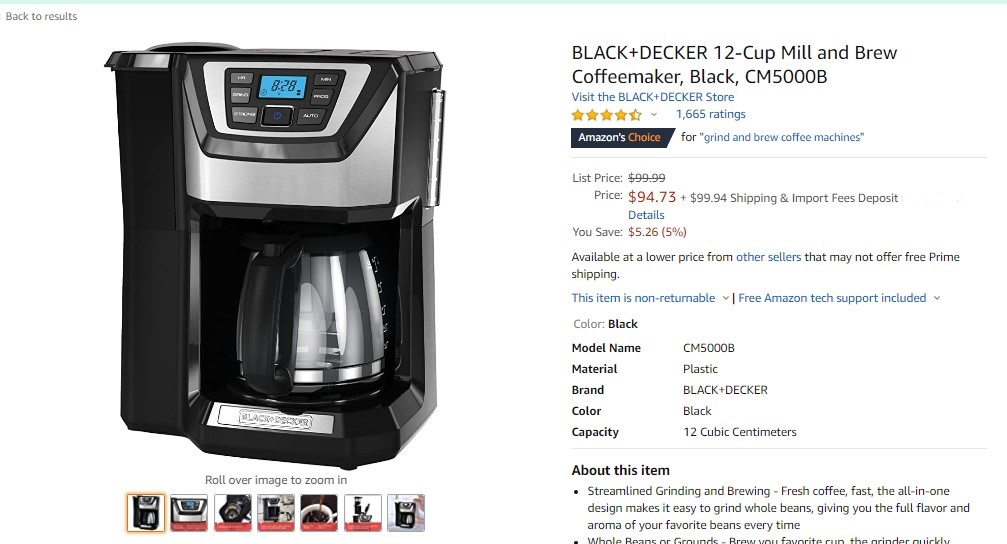 Try to add as much information as possible about the product and follow the other tips too. Also, for your important category pages, make sure that you take the same approach in terms of content length and quality.
After the in-depth description was written, you need to carefully add the target keywords inside the content. You should do this around 3 to 5 times for every 1,000 words.
Do not think about keyword stuffing or densities when you do this since when you stick to the number of times mentioned, nothing bad would happen. The addition is only done to help Google understand the content.
The main keyword you target has to be added in the very first 100 words of the page. This is because Google adds a slightly increased weight on these words.
LSI (latent semantic indexing) keywords are phrases and words that are tied to the main keyword.
For instance, if the main keyword is "coffee grinders", some clfosely related long tail keywords are stainless steel, schedule, auto timer, Keurig, grind levels, and so on.
If you do not know how to find LSI keywords, Alexa has a very good article on the topic:
How to Find LSI Keywords: 5 Easy Strategies
URLs
The best URLs are short and keyword-rich.
Remember that short URLs usually rank higher than long URLs. Unfortunately, running an eCommerce business means your links are longer than with most other sites.
Usually, the URL includes the main category and subcategories. As an example, the URL would look something like this:
"https://domain.com/category/sub-category/product-name.html"
The problem with the longer URLs is that they dilute keyword impact inside the link.
Let's look at a long URL that is unnecessarily long:

Besides the fact that this URL is too long, it includes elements that are not needed, like "petcostore/category" and "shop". In such URLs, it is common to notice additions that are not needed, including product ID numbers and similar extras.
When you want to create an URL that is SEO-friendly, the best practice is to add a keyword-rich description of the category. So, we would have a category URL like:
"https://domain.com/dogfood/drydogfood/"
For the product pages, add the main target keyword and use dashes, like:
"https://domain.com/dogfood/drydogfood/merrick-full-source-grain-free-beef-bison"
Internal Links
Internal linking is usually naturally done for an eCommerce store. This is due to the navigation system that creates countless related internal links with a suitable anchor text.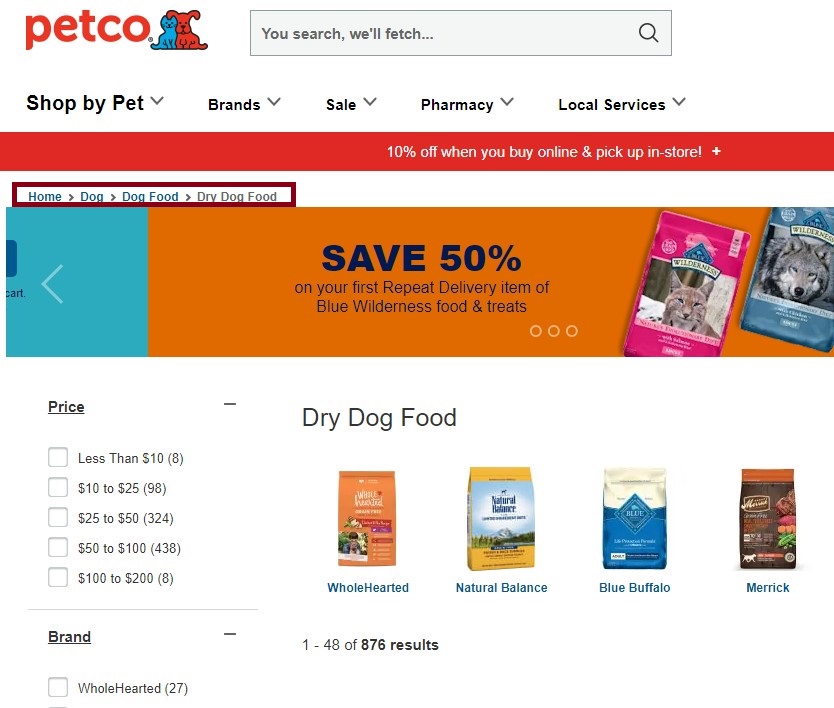 With this in mind, those links are not enough. You have to think strategically for eCommerce SEO.
What is particularly important is to add internal links to the desired pages from other pages that have high authority.
As an example, let's say a blog post was written with the topic "How To Choose A Coffee Grinder" and it is fairly popular since it generated many backlinks. At the same time, on the eCommerce store, you have a coffee grinder that you want to get rank higher. Inside the blog post, you can add a link to that product with the anchor "coffee grinder".
Product Review Schema Markup
The last thing to do when you optimize on-page eCommerce SEO is to add product review schema markup. This helps create rich snippets that will be displayed on Google.
An example of rich snippets:

The reason why rich snippets are important for eCommerce SEO is that they make Google results stand out.
The problem is that schema markups are not that easy to add to a website. Here is a guide that talks about the topic:
A Comprehensive Guide To Schema Markup For Ecommerce
You might need the services of a web developer for the implementation.
Technical SEO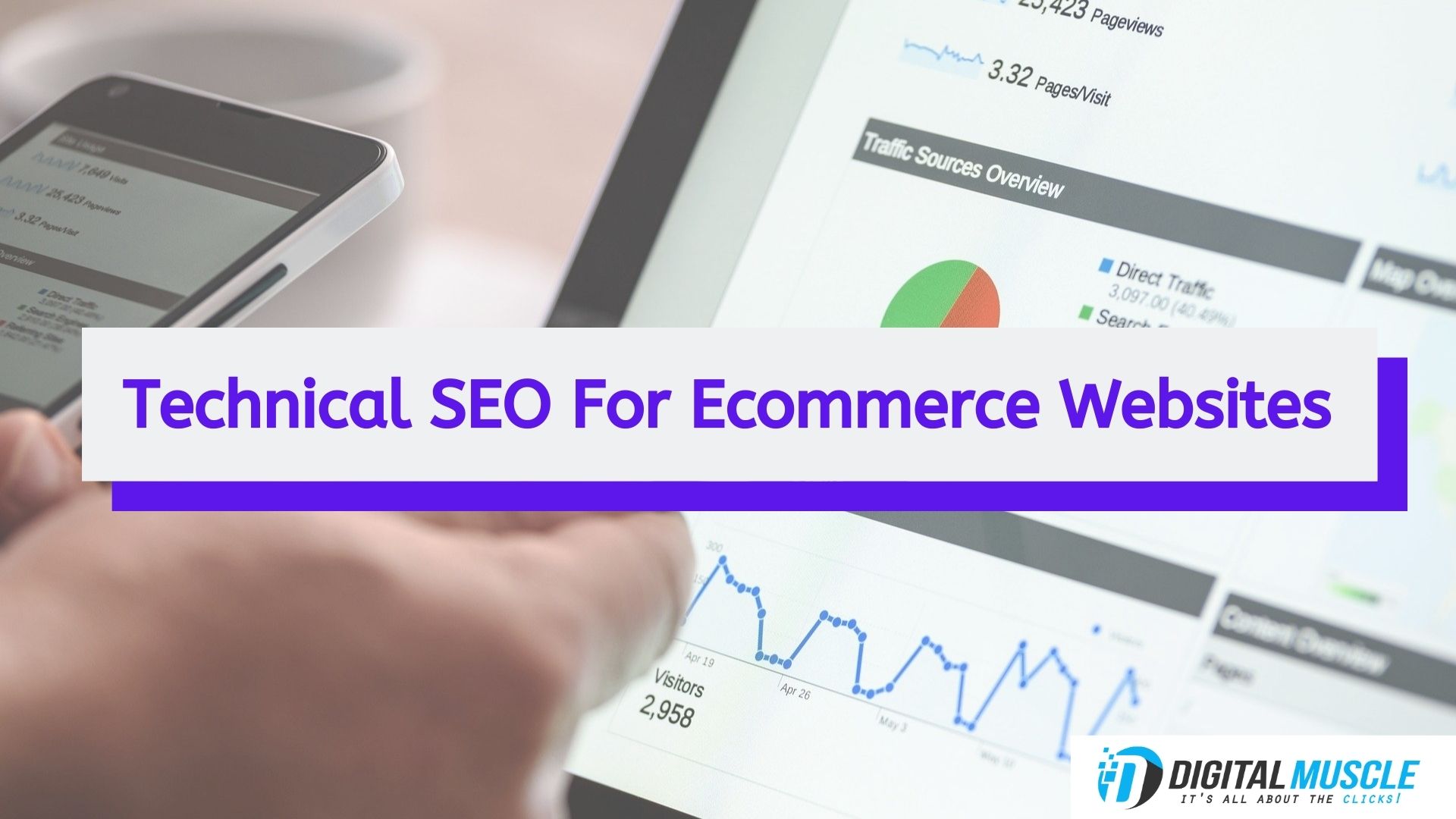 A huge problem with eCommerce stores is that they are massive. Technical SEO errors are bound to appear. Fixing them is mandatory if you want to get high rank.
Unfortunately, it can be quite difficult to discover SEO errors. Google Analytics and Webmaster Center do not help. If you can afford it, check out the Site Audit Tool by SEMrush. It gives you a report with all the technical errors you can fix.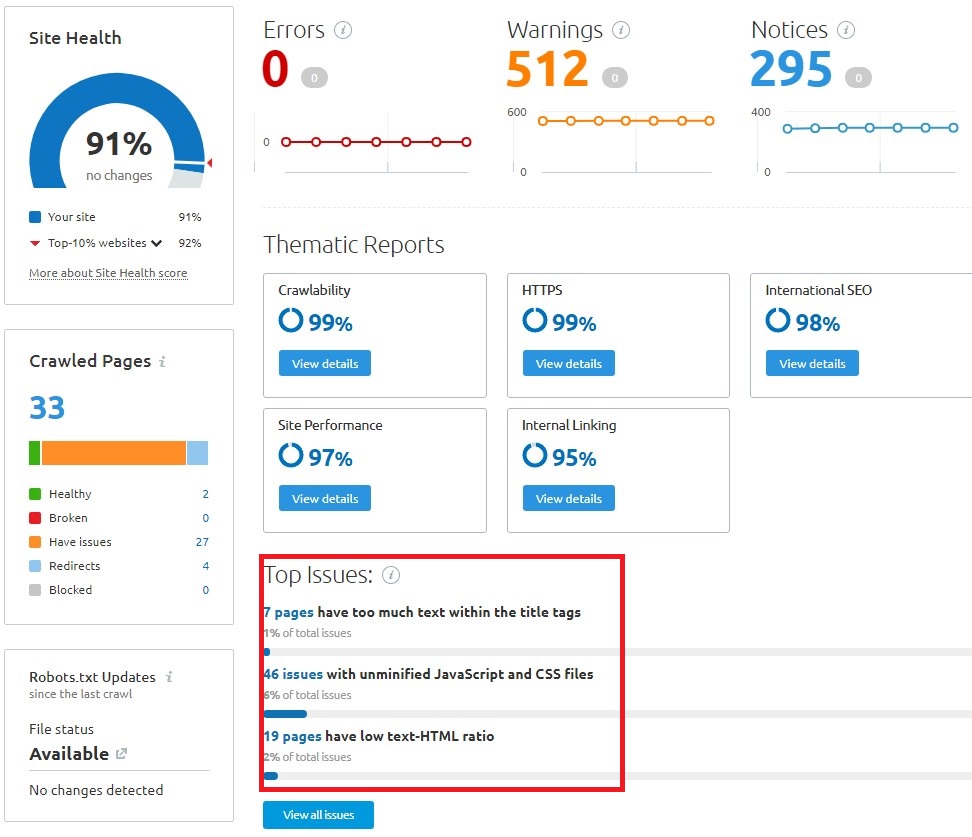 With eCommerce SEO, the most important technical SEO issues you have to resolve are the following.
Duplicate Content Issues
Large eCommerce websites have thousands of different products listed. It is oftentimes inevitable that duplicate content appears. When these are unavoidable or you just locate them, do this:
Use indexing for the pages without search traffic.
Use canonical tags to show Google the main pages of your site.
Use a Content Map that can identify duplicate content.
Hide duplicate content in the original content.
Use noindex tags whenever possible.
Website Speed
The eCommerce website is oftentimes impacted by speed issues. This can happen because of countless reasons like a slow web host, unnecessary code, and very large file sizes for the images used that destroy site speed.
Optimizing page load speed is not easy. It can take a lot of work and you might need the services of a developer. However, at the very least, you could:
Use image compression like TinyPNG to optimize images.
Use CDNs (content delivery networks).
We recently wrote an article that can help you with image-related problems:
Image Search SEO – An Overlooked Traffic Source You Should Use Now
Thin Content
This is another very common problem with large eCommerce sites. It is very difficult to write unique content for similar products. This is why we talked above about taking it slow and creating rich content for just the top products.
When you find thin content, carefully review the pages and see if you have to fix them because they are valuable. In fact, the best approach is to create detailed descriptions for all of them. Just be strategic about them and write them in order of importance.
Keyword Cannibalization
If you have one keyword and you use it to optimize 2 pages, keyword cannibalization happens. As an example, you can see that the category page ranks higher than the product page.
When keyword cannibalization happens, you can be faced with one of 2 situations:
None of the pages rank.
The wrong pages rank.
Unfortunately, if the different ranking already appeared and it is a problem for your site, you cannot just change some anchor text and fix things fast. The only thing you can do is to utilize 301 redirects and remove the duplicate pages with lower importance. When this is not an option, you can add canonicalization or noindex tags.
Deep Pages
A deep page is a page that is over 3 clicks away from the site's homepage. If you double check Google Analytics, you quickly figure out these pages do not receive a lot of traffic.
You can fix this in different ways, although the most effective one is the addition of feature-based navigation to the homepage.
Broken Or Missing Canonical Links
When you add the rel="canonical" tag, you let Google know what page version you want to appear in results. When the tag is broken or incorrect, crawlers become confused.
HTTP Issues
Usually, HTTP issues appear when the domain was moved to HTTPS. Nowadays, HTTPS is a very important signal so you absolutely have to address all the HTTP errors you notice.
Local SEO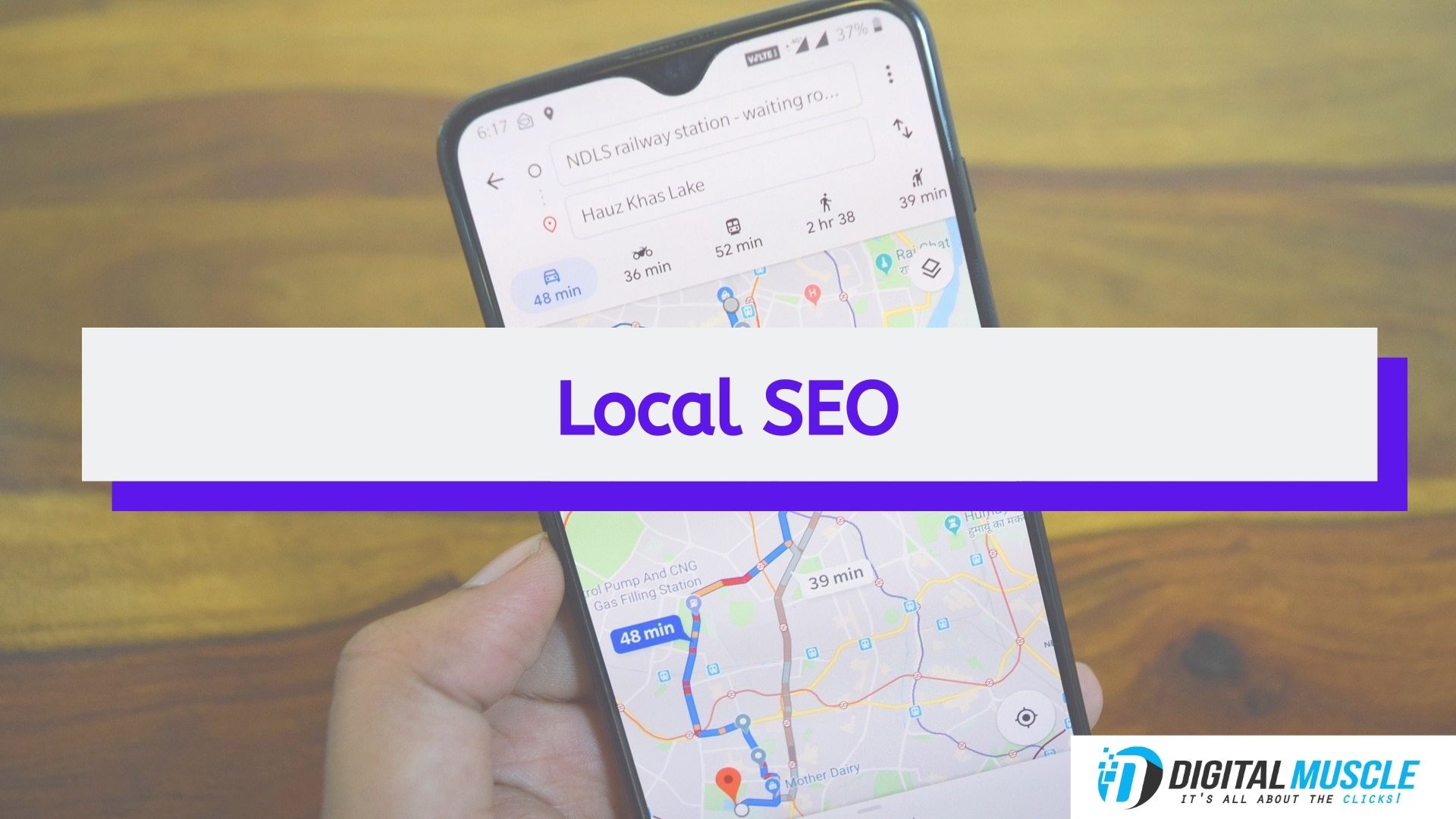 Local SEO is very important for eCommerce retailers that also operate physical stores. In this case, local site traffic helps offer a very nice ranking boost.
Fortunately, the things that you have to do are simple. Local SEO for eCommerce sites boils down to 3 things.
Google My Business
Whenever you want to do local SEO, the first step is to add your site to Google My Business (GMB). This is Google's business directory and it has a very high weight in local search engine rankings.
When you add your business to GMB, your business appears in Google Maps.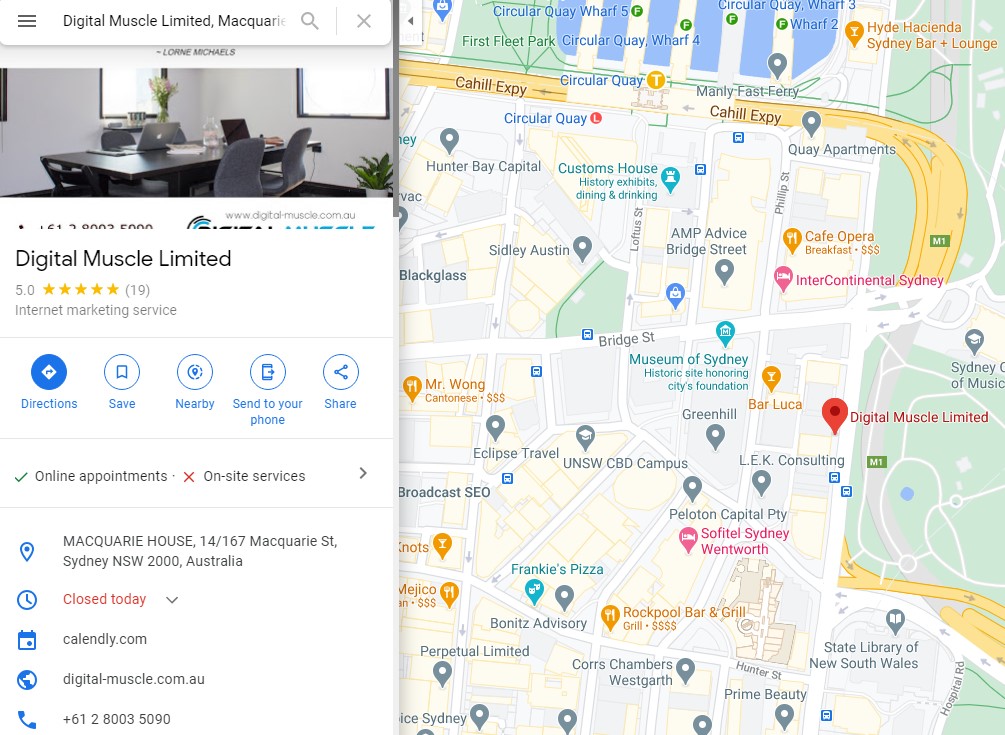 This listing is very important because it shows website address, information, email address, pictures, reviews, hours of operation, images, main product name, and more.
Local Citations
These are backlinks that come from local websites, like magazines, news outlets, and other similar stores.
These citations show Google that the online store is popular in an area.
The great thing about these links is that they also help with international rankings.
When you really want to rank as high as possible and you operate in different countries, you can always create different site options for different countries. We also have 2:
Links From Local Websites
All local links can increase domain authority and increase local rankings. You can easily get some links from the supported charities, local associations, locally-based blogs, and news publications. There is even a lot of value in links coming from product reviews.
Content Marketing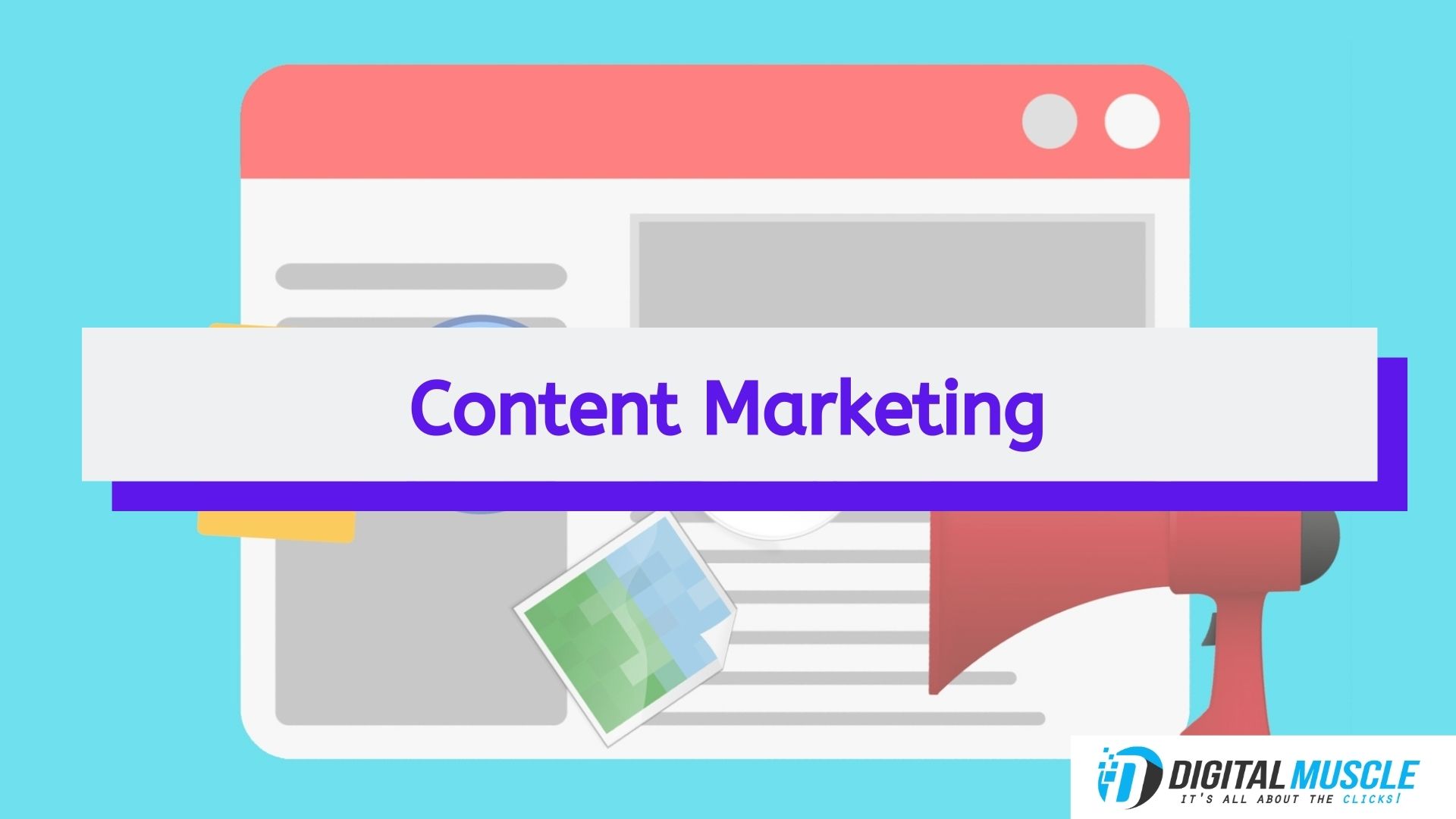 For eCommerce businesses, this type of marketing is particularly effective. As you build your eCommerce strategy, you cannot just focus on the technical side of things and on-page search engine optimisation. You also have to think about how you will promote the site.
Marketing content is a huge topic that warrants a comprehensive guide. We will write one in the future. However, since we are discussing eCommerce sites, there are some important things that you have to remember as the strategy is created:
Learn Where Clients Spend Time Online
To create an effective plan, you need to get insights. Basically, you need to learn what customers think, want, need, fear, and even dream. The more information you learn about people that are likely to buy something from you, the easier it is to create content that would work.
For instance, when you sell dog food, your audience is made out by dog owners. In this case, you should check locations like the dogs community on Reddit.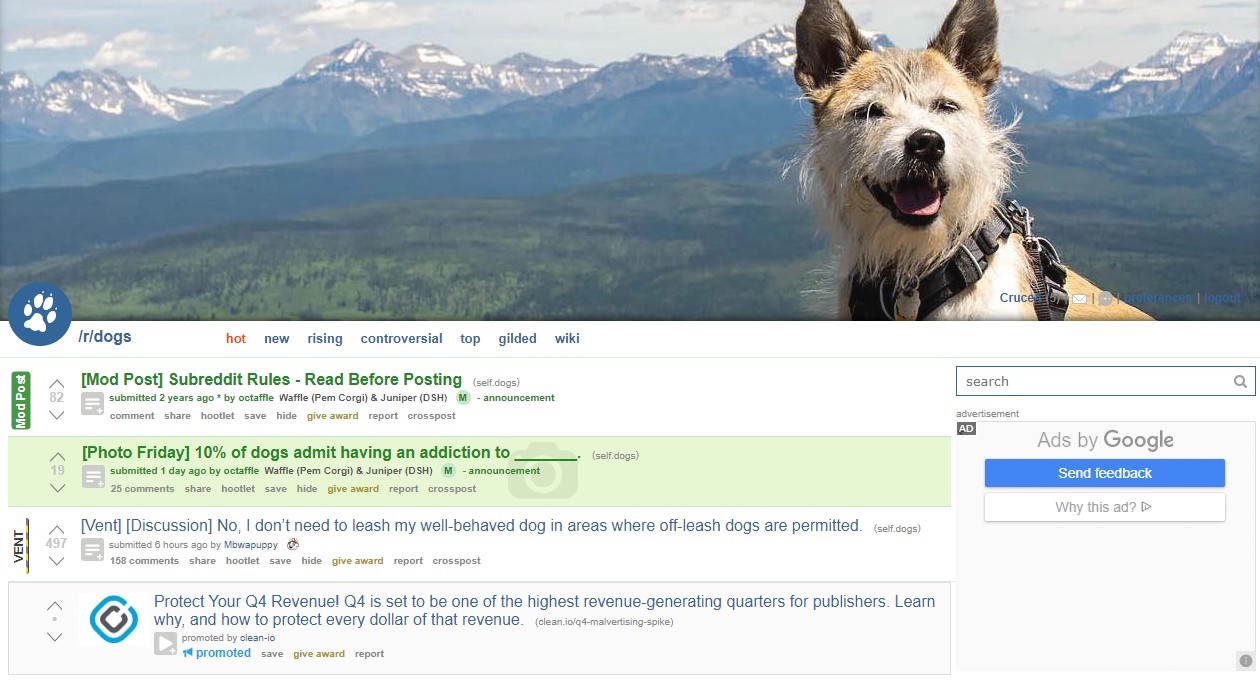 Or maybe look at a Facebook Group like Dog Training 101.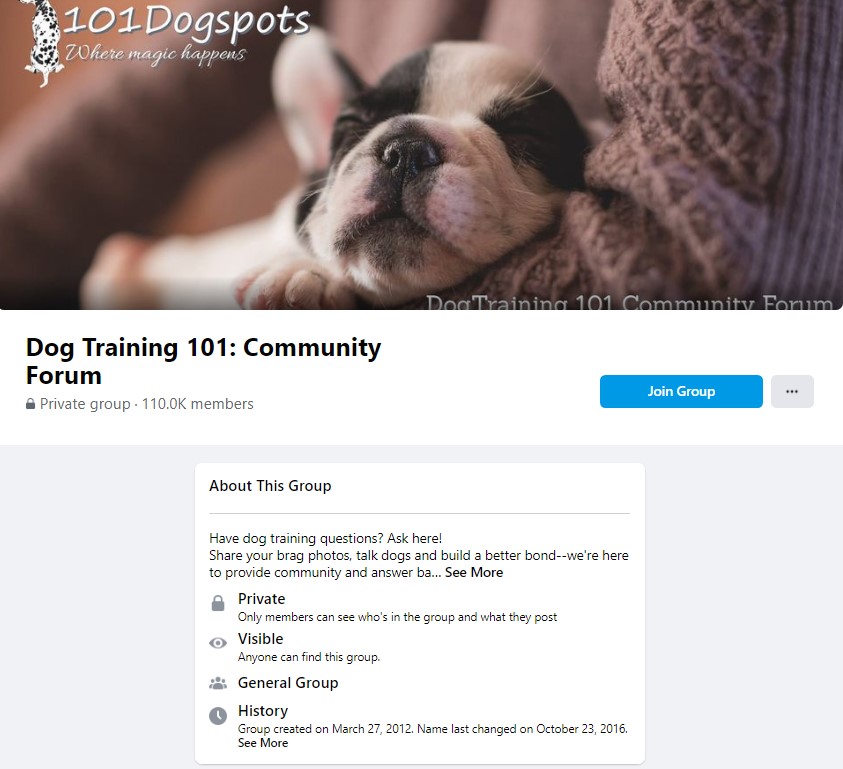 The idea is to join places where your audience spends time to get insights so you can create content that would connect.
Identify Unique Phrases And Words Used
After you join the online communities, you want to analyse the phrases and words used to describe issues and problems. For instance, you will often hear dog owners refer to their loved pets as "doggos" or other caring names.
The phrases and words you identify are keywords that are used by potential customers. Even those that are not used when shopping can be useful as you would "talk their language" when you create blog content posts.
Create High-Quality Content
Obviously, this is much easier said than done. But it is a necessity if you want to use content marketing. The trick is to use the phrases and words you identified to create content that relates to the audience.
You can easily use the skyscraper technique at this step. A great article about this can be read here:
What Is Skyscraper Content And How Your Business Can Use It For Rapid Growth
What is particularly important is to keep publishing content on the eCommerce website. You can do this on a blog and the goal is to get traffic, social media shares, and backlinks.
Unfortunately, most eCommerce sites do not have a blog. This is a mistake if you want to use content marketing and the reason why the blog does not exist is that the site owners believe it is impossible to find suitable topics.
This is incorrect.
There are always topics you could find and use for a great blog. For instance, when you sell dog food, anything dog-related can work, like training tips, details about dog food ingredients, and even funny posts like how to teach your dog to make weird faces. Then, you can always use the blog to link to some product pages.
Link Building For Ecommerce SEO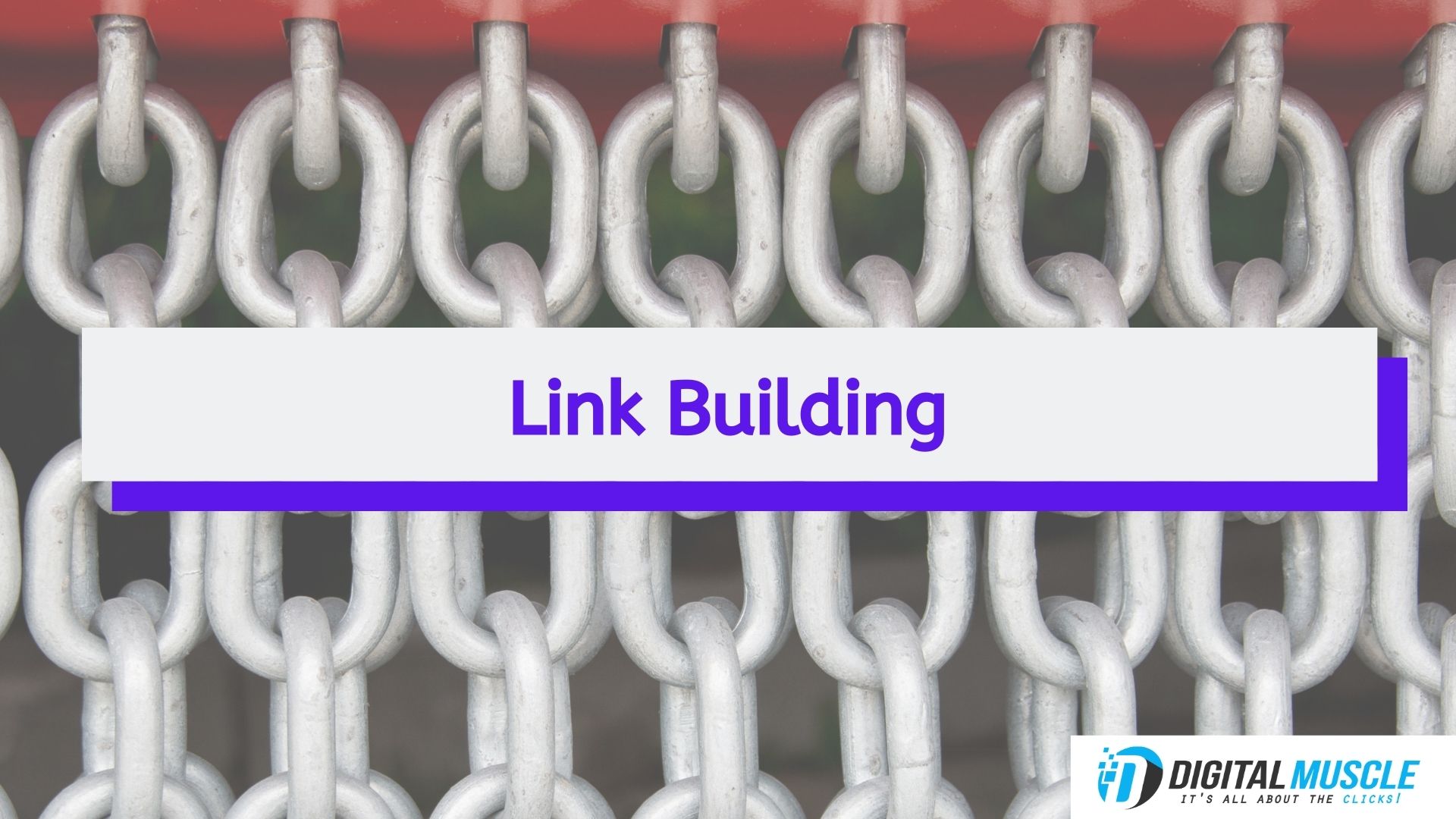 The two most important ranking factors for Google are site content and links. We already talked about content so what should you do to get more backlinks?
First off, you have to be strategic. You should not just blindly chase links for category or product pages. You need high authority backlinks. These come from websites that have a high domain authority and are related to the content you offer.
Link building is a part of off-page SEO. It is much more complicated than making modifications on the site. At the same time, it is very time-consuming, especially when referring to getting links for product categories.
The best thing you can do for the eCommerce business is to take advantage of some unique link building options because regular ones, like guest posts, are hard to obtain.
Resource Pages
We have to start with this because resource pages are usually overlooked as link building opportunities. Most people building eCommerce SEO strategies simply do not use them.
To keep things simple, a resource page is a page that is filled with industry resources. You surely saw blog posts with such resources, like: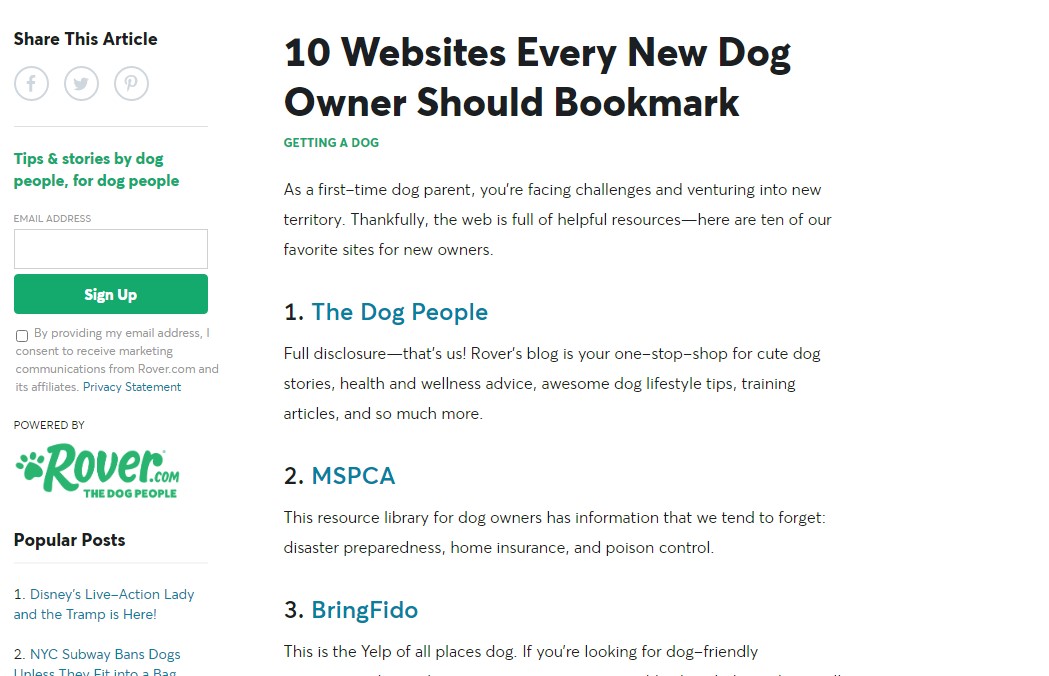 Or maybe a more common list instead of blog posts, like: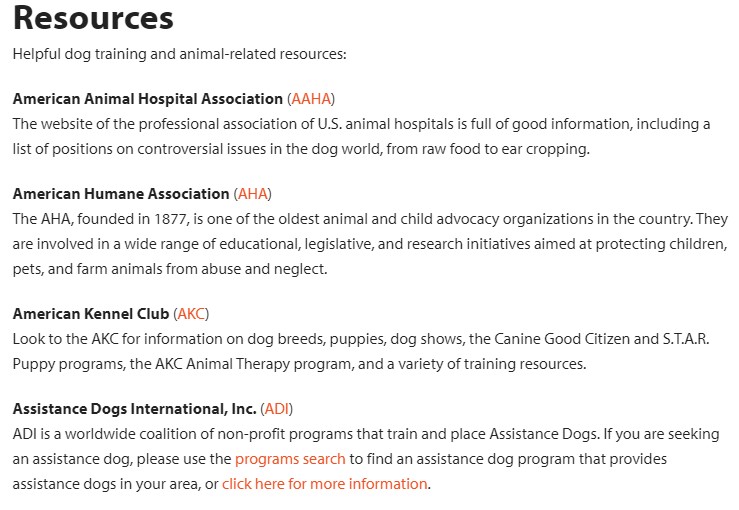 Some resource pages offer more authority than others but at the end of the day, they are all valuable, especially if you can get links to product pages.
Find resource pages by simply using Google. You can use queries like "resources + seed keyword" or get more detailed like "inurl:resources + keyword".
With our example related to dogs, a search would look like: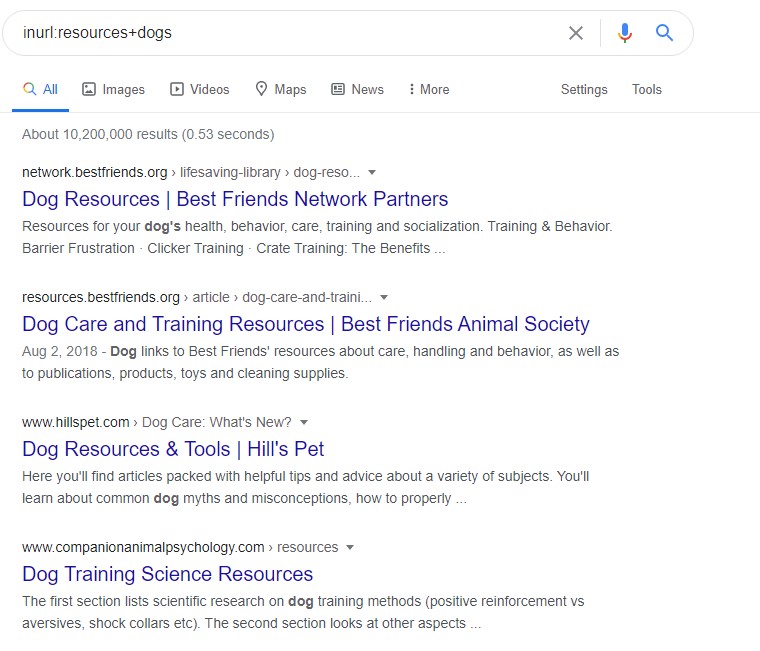 As soon as you find promising pages, contact the owner. An email is enough. The trick is to make the email as customized as possible.
Sure, it will take a long time to send many outreach emails. However, this is a very effective strategy that can bring in very valuable backlinks.
Influencers
Working with influencers is highly effective in generating a lot of brand awareness. This is because influencers have a very large following and usually resources that have high authority. At the same time, they do not directly compete with you.
Influencer marketing is oftentimes used to generate sales but when your goal is SEO, there are some differences.
In this case, you do not pay the influencer to share something a blog. What you want is to gain a backlink to the eCommerce site.
To do this, you want to build a relationship with the influencer. This is possible through different methods, like:
Commenting on the influencer's website.
Sharing content from the influencer's website.
Contacting the influencer to ask questions.
Offering influencers gifts.
Basically, you want to act just like you are making a new friend.
To find such influencers, read this article:
How To Find Influencers In Your Niche: 19 Tips, Tools, And Providers
Stealing Links From The Competition
Ok. Stealing is a strong word. You wouldn't be stealing anything but this is how we SEO people talk.
The idea is to spy on the keywords used by the competition on their landing pages. This allows you to learn where the sites get links from and you can then try to get some links from the same resources or even have the owner replace their links with yours.
Obviously, this will take a lot of trial and error. You will need to send many emails and you will have to see what works and what does not work in your case. Get ready for low conversion rates for these mails.
Related tip: If possible, try to set up an affiliate program. Then, just contact those pages you identify and let them know about the affiliate system you have. This offers an incentive for the blogger/site owner to replace the link of the competition with yours.
Conclusions
I know. This was a pretty long guide.
Believe it or not, this is the short version of what eCommerce SEO is all about. Think of it as just a summary.
Due to this, I always tell people one thing when they ask "How should I create an eCommerce SEO strategy?":
"Hire an experienced SEO agency to help you"
This is because of these simple reasons:
Ecommerce SEO efforts take time.
Quality content creation takes time.
Most business owners and in-house teams do not have advanced SEO knowledge.
Without access to valuable SEO tools like Ahrefs and SEMRush, the process takes a lot more time.
The bottom line is: it all boils down to time. At least from my point of view.
The time that you would spend on eCommerce SEO would be better suited for improving your business. At the same time, SEO professionals work hard to improve your rankings.
We can give you the help that you need. Just look at our Packages and get in touch. Make sure you let us know that you want eCommerce SEO services to get you in touch with a specialist from our team.
However, I understand your budget might be limited. The eCommerce SEO guide above helps you because it allows you to create a good strategy.
Use the strategy and keep working. You will eventually get the results you want.