As SEO professionals, we use numerous paid tools. They make our work faster and we are thankful for the fantastic developers that worked really hard to create them.
However, we WORK in the industry. We NEED them to offer the best possible SEO service. These paid engine optimisation tools are a part of our regular expenses, just like renting a location is for Starbucks.
For the regular blog owner or small business, this is not the case. They do not need SEO tools to offer a service or a product. Investing in a tool is exactly that, an investment.
Fortunately, there are hundreds of free SEO tools you can use to increase organic search traffic.
While they do not offer the in-depth data you get from paid options, you still get access to very effective tools that will help you to rank higher in search engines.
Below we talk about the very best ones, the ones that we recommend to anyone that needs some extra help to rank higher but cannot afford the paid options.
Keyword Research Tool
Because good search engine optimization always starts with research, particularly research related to keyword ideas, these keyword research tools will help you find great phrases to work with. Use them to find new topic ideas for blog posts or just as new options for your existing pages.
Simply add your seed keyword and the generator shows you the best 100 keyword ideas to use. The information is pulled from Ahrefs' huge database of 10 billion keywords.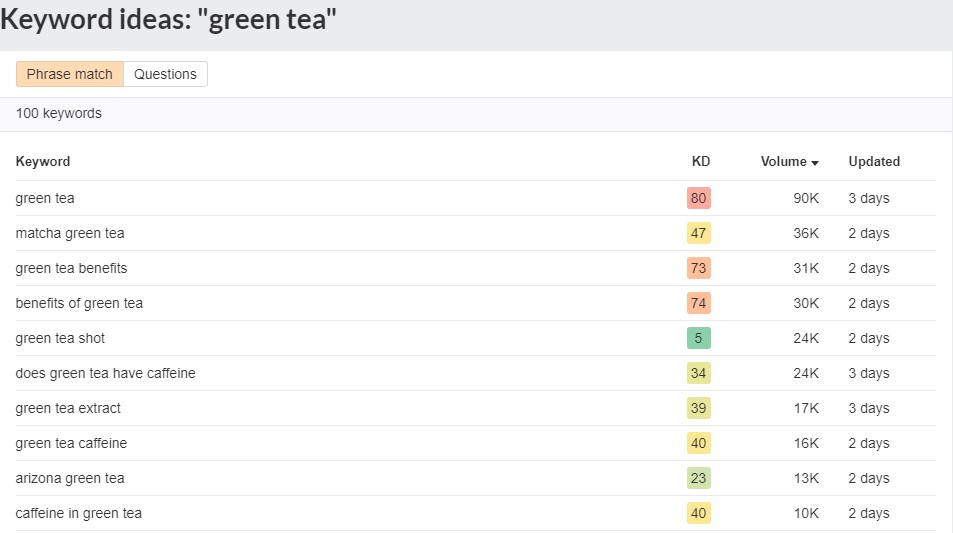 "Green Tea Shot" looks very interesting.
For your seed words, you will get information about search traffic volume and even keyword difficulty score (KD) ratings for the first 10 ideas offered. At the same time, the tool can be used to get ideas for YouTube, Bing, and Amazon.
As a bonus, you also get the top 50 questions people ask in regards to your words, together with search volume and KD for the top 10.
Answer The Public is a personal favourite of mine and I am not the only one. This free SEO research tool offers valuable data because it shows you questions asked online by real people.
Add the keyword and you receive the most popular queries.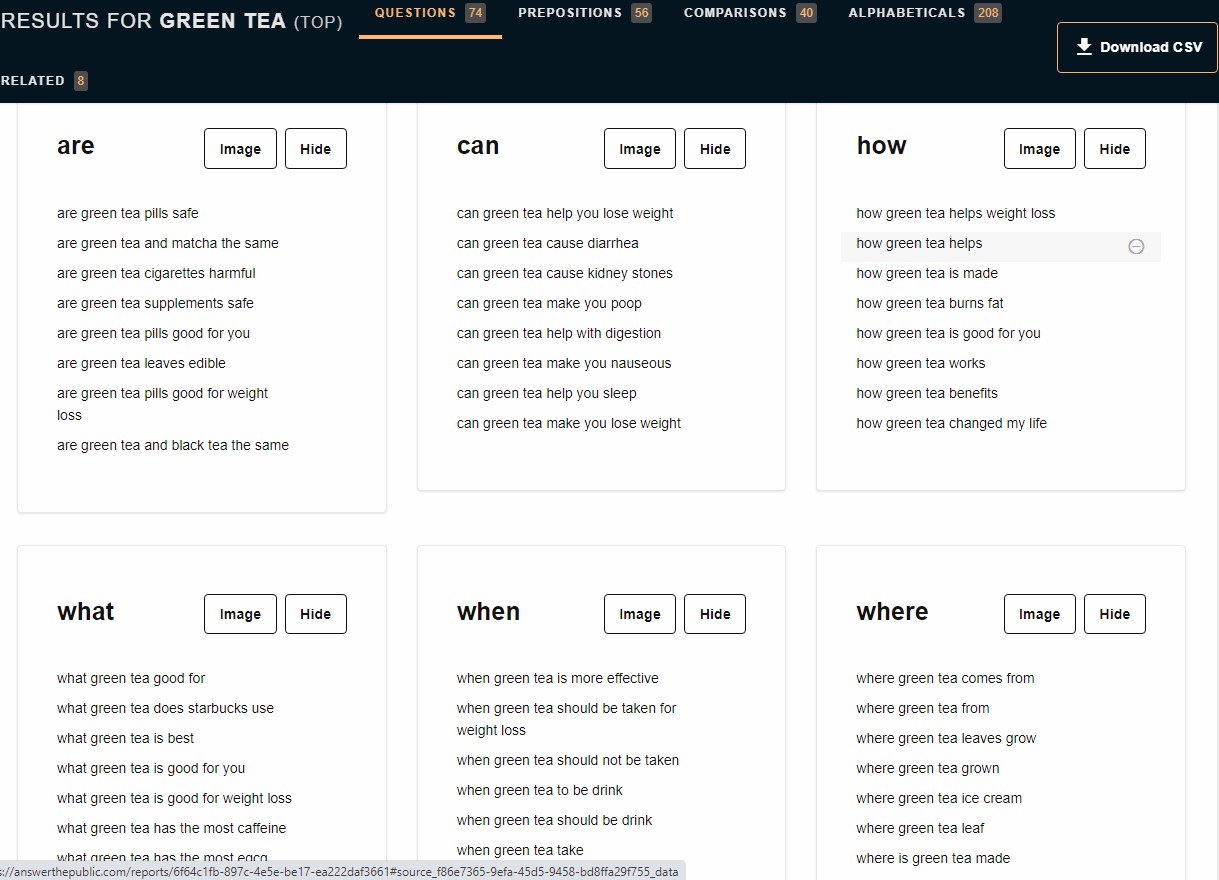 Such data is particularly valuable for content creators since they get free insight into desires and concerns for potential customers. With such information, it is a lot easier to create highly targeted content.
Download the questions from the search (upper right corner) in TXT file or CSV format and you are good to go.
Extra Tip: Use the file you download in combination with Google Data Studio.
When you look at MOZ tools, it is easy to be overwhelmed by the many paid options available. However, the Keyword Explorer offers you 10 free queries every month. This is enough for most small businesses and bloggers.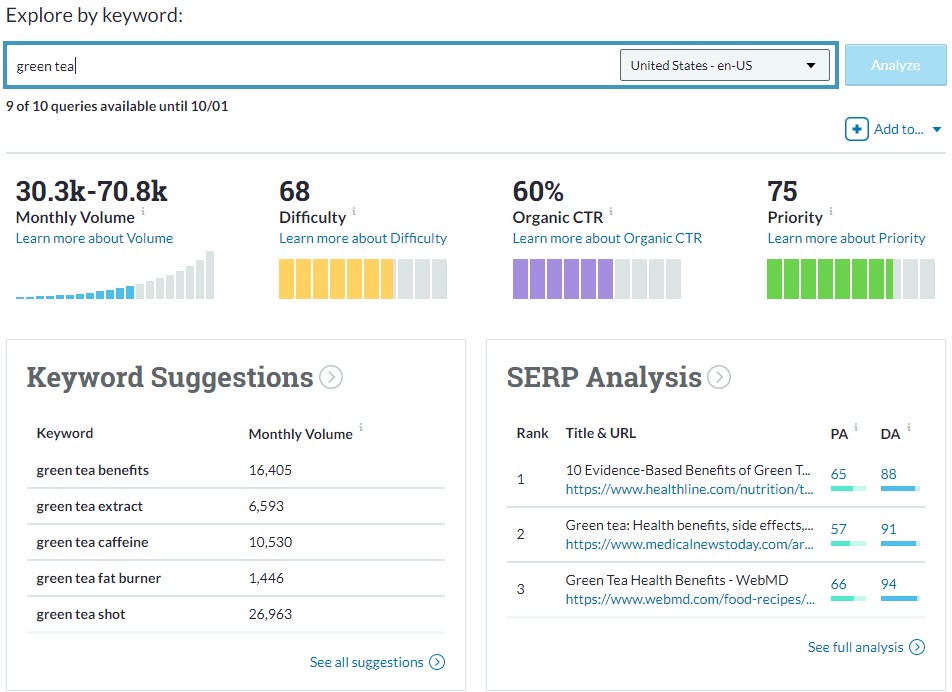 The Explorer offers you an impressive 1,000 suggestions for seed keywords you can use, together with monthly search volume, keyword difficult, SERP analysis, and CTR date.
Extra Tip: Make sure that you also use social media to look for some keywords that could be targeted by seeing what people talk about.
On-Page SEO Tools
After doing research, checking search results, and choosing keywords, it is time to create content. When you finish, you have to optimize it. This is where on-page tools help.
Paid options like Surfer SEO are just incredible, but there are some pretty good free ones to use, like:
This Firefox and Chrome extension pulls data from the Ahrefs database and shows you many relevant metrics right in your browser. Also, it can generate a very useful on-page SEO report for the page you visited. This includes elements like meta description, title, headers, word count, canonicals, word count, and more.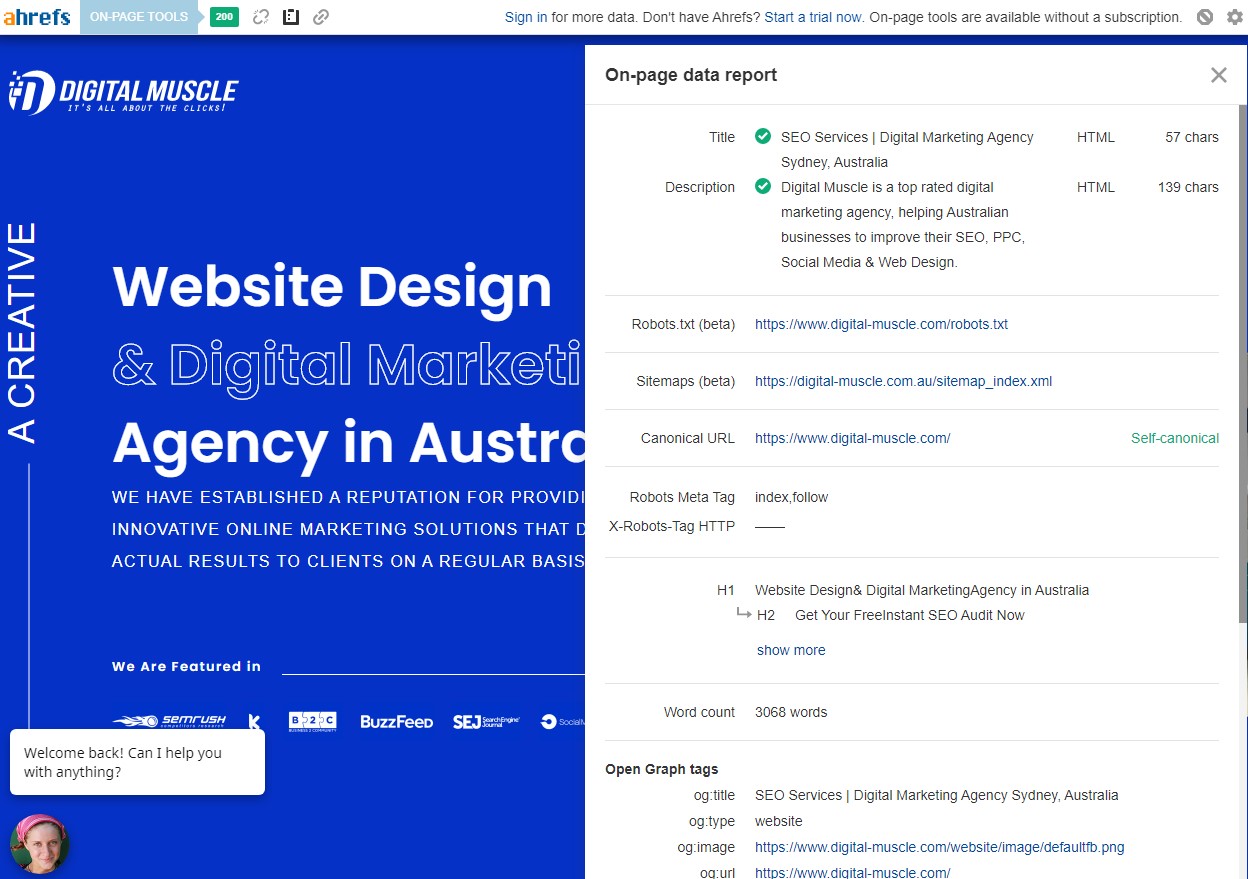 The SEO report generates more data you can use. What we particularly like is that this Chrome extension toolbar:
Traces full path redirect chains.
Shows SEO metrics.
Finds broken links.
This SEO toolbar is a sleeper pick when it comes to free search engine optimisation tools because it is neglected by many. We believe this happens because of the numerous features available that people just do not know, so maybe you want to also watch this short video that explains how to use it:
If you use WordPress, this is an SEO plugin that helps a lot of both technical and on-page work done to climb in search results. It is very effective at helping you to add meta descriptions, titles, other meta tags, and OG tags. Then, you can include structured data markup so your rich snippets look great and redirect URLs whenever you need to.
Rank Math even helps identify and fix dead links and we particularly enjoy the Automated Image SEO feature. We highlighted how important Image SEO can be as a traffic source and this plugin helps you to do it right.
Want to learn more? Look at the plugin's presentation video:
This tool is very helpful when it comes to dealing with stale content, which normally appears when blogging for a long time or when a site was not updated for a while.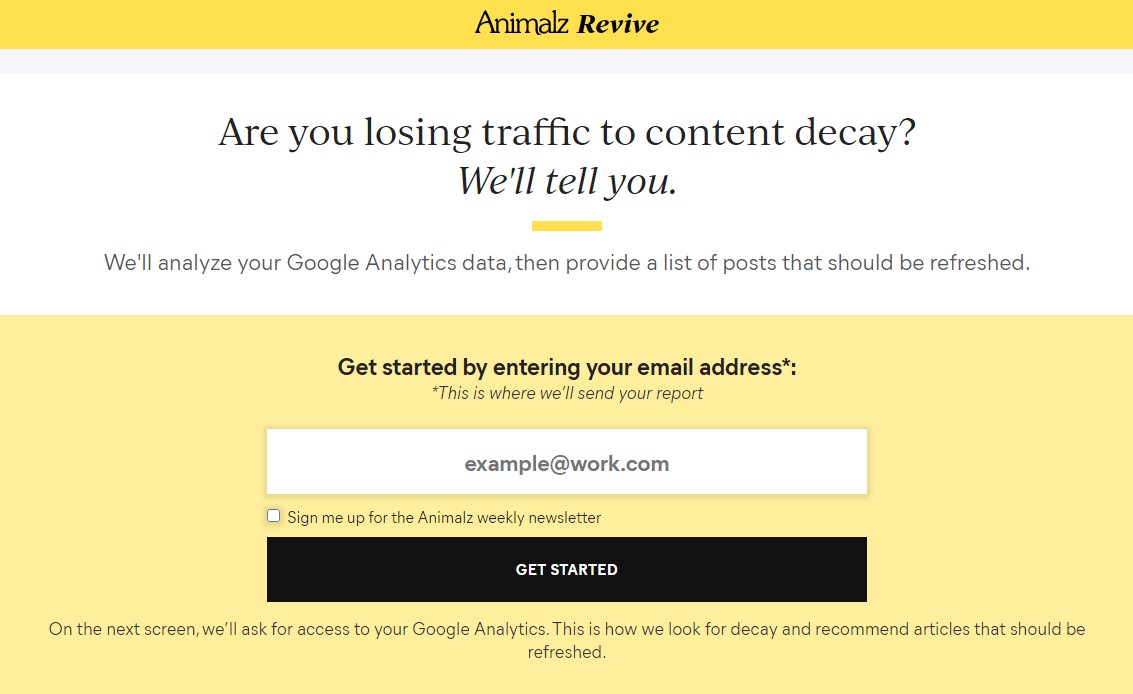 You create an account and provide access to the Google Analytics account. Then, you choose what site to analyze. Revive will then generate a report that you can look at so you can notice those blog posts that are decaying.
Revive is free and when you use it, you can easily update pages at the right time.
Technical SEO Tools
As you work on your site, you need to make sure that everything is right from a technical point of view. Use the following SEO tools to do just that.
Mobile-first indexing is a very important change that Google did and that influences how we work on websites. It practically means that your website has to be optimised for mobile devices.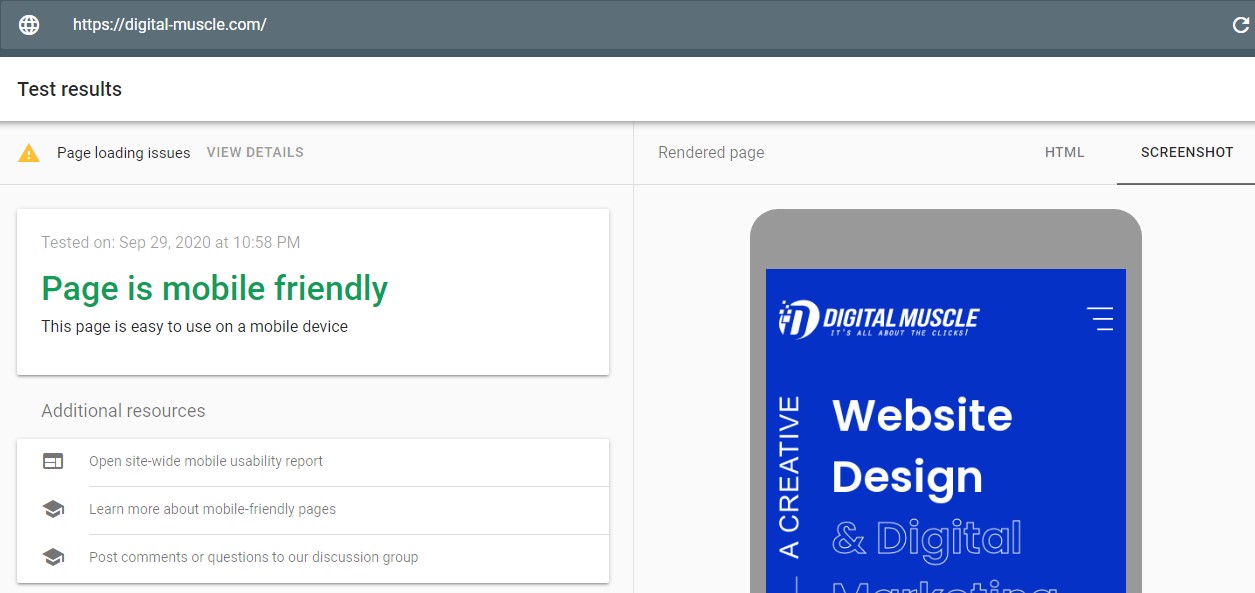 Add your URL and the test offers you all the information that you need about this topic. You instantly learn if Google thinks the site is mobile-friendly and if not, the report tells you what page loading issues exist.
If there is one free SEO tool that has always been mentioned when it comes to optimizing websites, it is the Google Search Console. Previously known as Google Webmaster Tools, this free resource offers tons of valuable information to help you rank higher.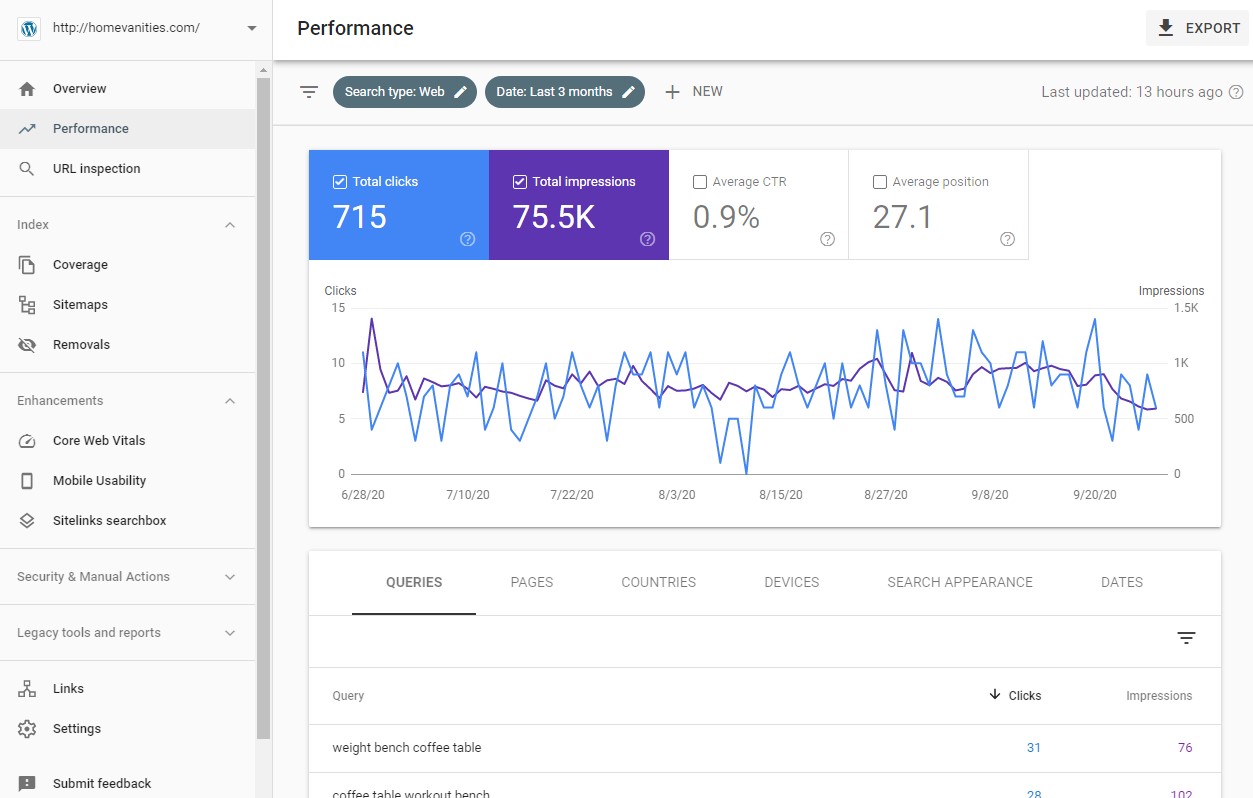 You want to use Google Search Console to submit XML sitemaps, fix technical errors, check core web vitals, see SEO issues with structured data, submit links you want to remove from Google, get notified of problems like Google Penalties, and much more.
As extra similar resources to Google Search Console, you can check out Yandex and Bing Webmaster Tools. Both have similar tools available for you to gain more data.
SEObility is one of those free SEO tools that are highly underestimated. It works by crawling your entire website (the free project allows you to do so for one domain). Then, it highlights SE optimisation issues like sitemap problems, blocked pages, slow landing pages, technical SEO errors, and more.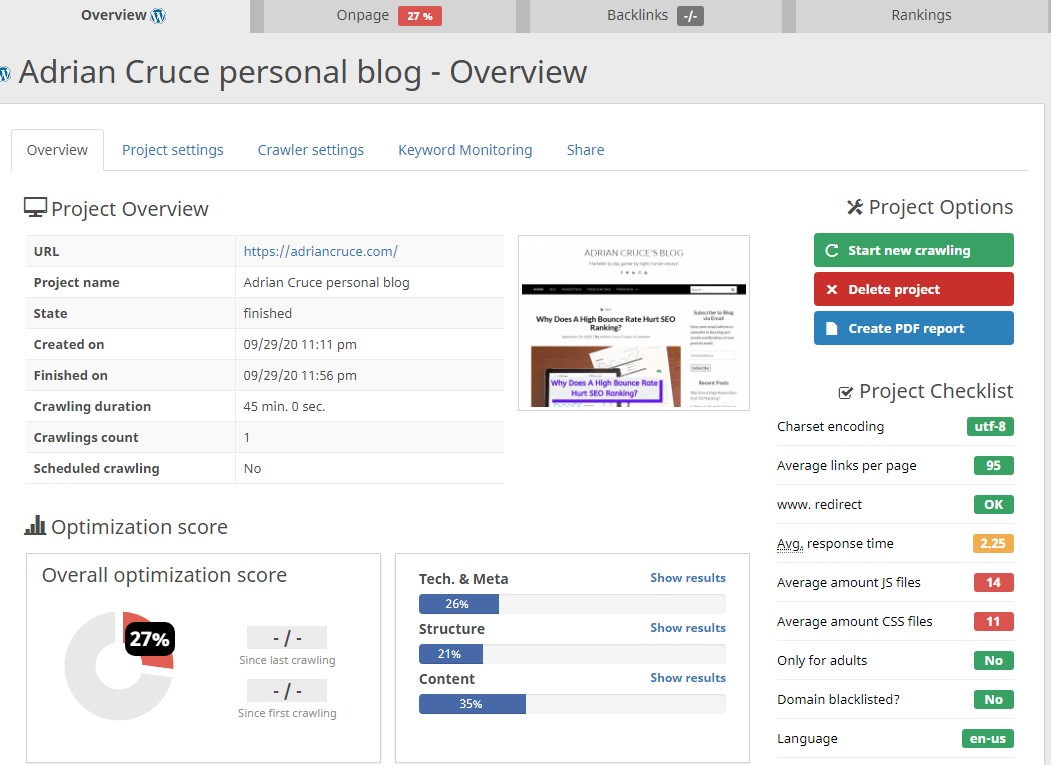 The best feature it offers is "Content Report". Just as the name implies, it highlights content-related SE optimisation problems, like missing meta titles, duplicate content, keyword stuffing, and thin content.
Usually, all this data is not available in free tools so make sure to give SEObility a try.
Analytics Tools
A very large part of SEO work is analyzing results. You want to know if something works or if you are just wasting your time. At the same time, you need to know where your traffic comes from and basically learn all you can about it. This would be impossible without analytics tools, with the following being great options to consider.
There is a very good possibility that you have Google Analytics already installed but if you do not, make sure you go through the steps to add it to your site(s) as soon as possible. This is because it offers a tonne of incredibly useful information about your traffic, including page speed, audiences, and more.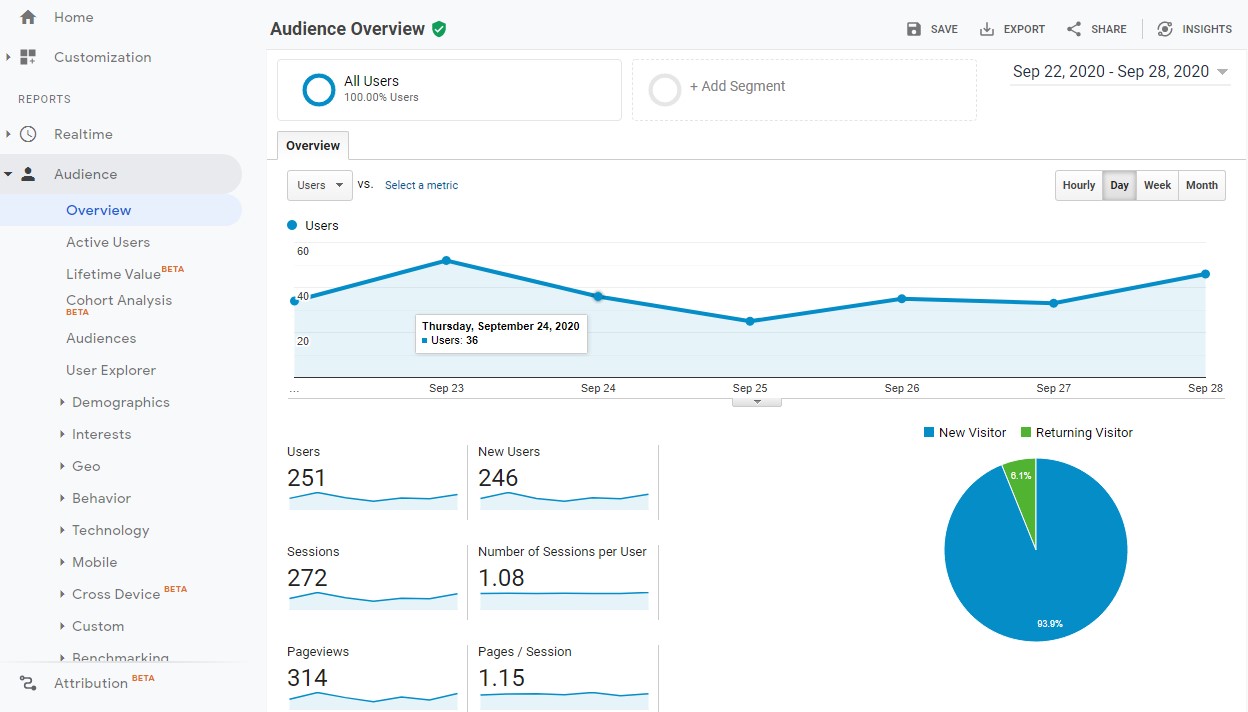 By using the information offered by Google Analytics, you can tweak your content strategy, see what works, what does not work, obtain vital information about your visitors, and practically get the data you need to perfectly market your site.
You will not find an SEO specialist or even a digital marketer that will not warmly recommend Google Analytics. It is simply a MUST-HAVE.
Extra Tip: If you use Analytics and you also want to use paid ads, don't forget about Google's Keyword Planner research tools.
We already established that you want to use Google Analytics. Keyword Hero is a very interesting add-on to consider.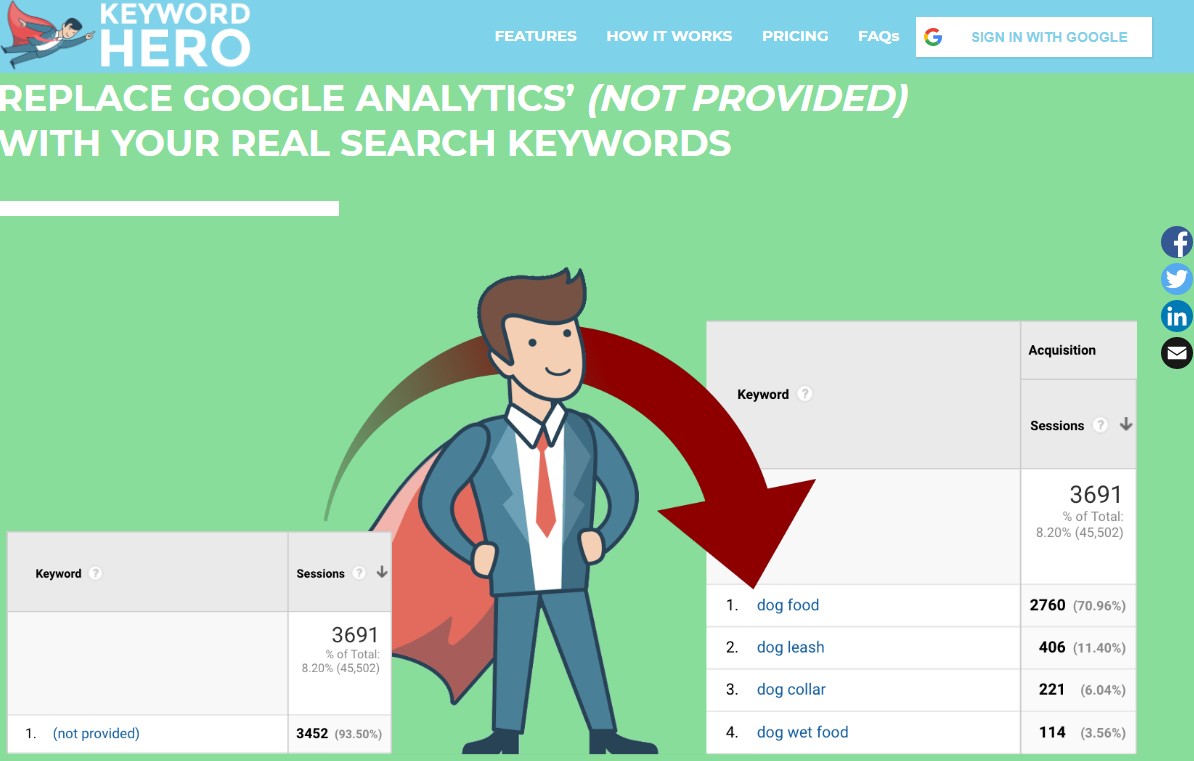 After the GDPR scandal in which big names like Google and Facebook were targeted, the industry giant decided to make a modification in Analytics. As a result, "(not provided)" appeared in its reports where it used to say what keyword was used by the user to reach the page.
Losing information about keywords used was a huge blow for marketers as the keyword research done was no longer simple. Fortunately, Keyword Hero tries to solve this problem with the use of machine learning and a lot of math.
While the system is not perfect, it does help you figure out more about how people reach your sites. And Keyword Hero is free for up to 2000 sessions per month, which is more than enough to check in Keyword Planner or other preferred platforms.
Extra Tip: If you use WordPress, look for a free SEO plugin that allows you to connect with Analytics to see reports while you create content. This allows you to better use your NLP keyword ideas while writing.
Link Building Tools
Link building tools help you get those backlinks that you need to rank higher in search engines. There are many different types of such resources available right now and they can help you with different types of link building campaigns. Start your free experience with the following.
One of the best ways to get a link for a healthy backlink profile is to directly contact the site owner, preferably with a direct email. However, after GDPR and other similar events, this became difficult. Tools like Hunter.io help you to find the email addresses that are associated with the websites you want to contact.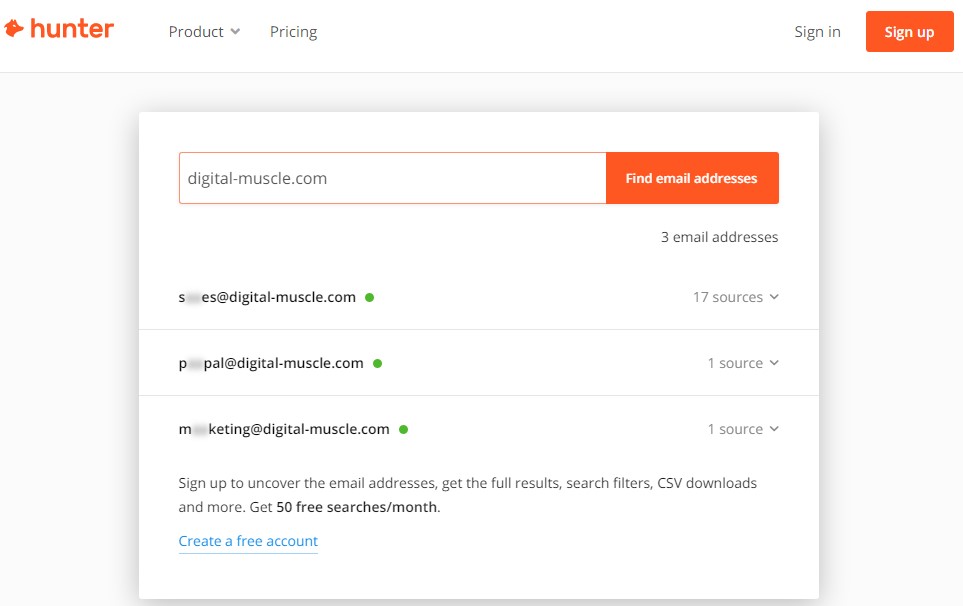 For agencies, there are paid plans available. For the regular user, you can use Hunter.io and find email addresses for up to 50 domains per month.
Help A Reporter is a pretty unique service that aims to connect journalists with news sources. Basically, when journalists have a question and they need an expert to answer, the question is sent to subscribers. When you respond to them, you can become a source and start a direct conversation. You might even get the email address of other journalists.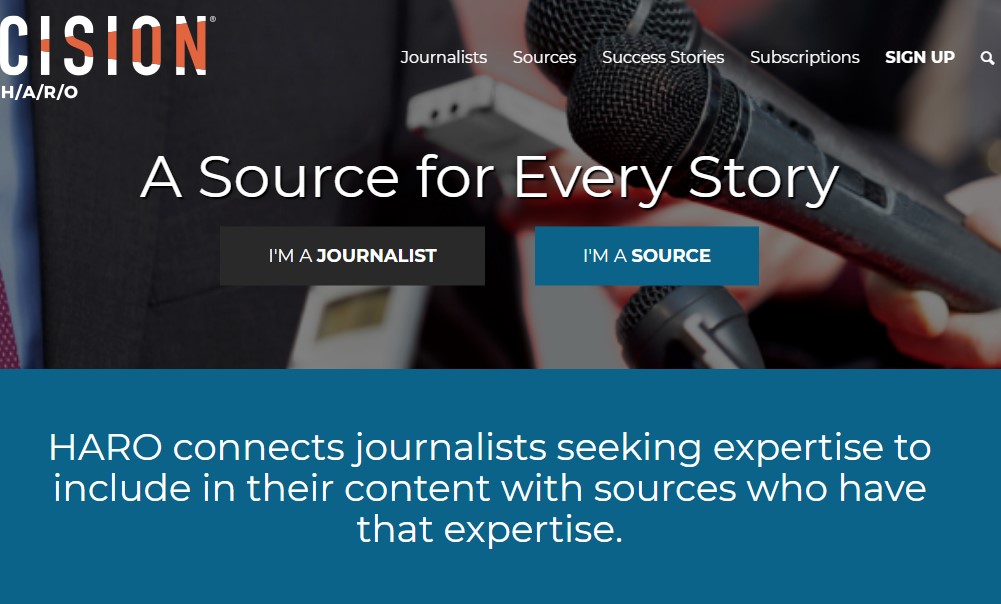 Obviously, when the journalists quote you, a link is offered or at least a brand mention appears. A tool like HARO can generate some high authority backlinks in a short time since it is used by huge media outlets like Mashable, Reuters, and Fox News.
Extra Tip: If you do not want to use such a tool, at least use social media. Most journalists have profiles set up and you can contact them directly.
Rank Checking Tools
When you do SEO work, you have to be aware of rankings, not just find keyword suggestions to use. In time, this becomes difficult, especially when you track several keywords. Some free resources to help you out are:
This tool is a very accurate and simple-to-use rank checker. Simply enter your domain name and up to ten keywords to see exactly where you rank.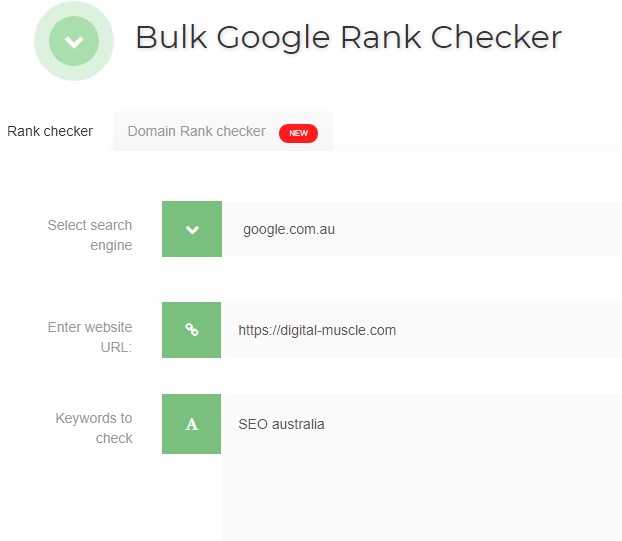 Bonus Tip: This tool can also be used to see exactly where the competition ranks. Use it in a combination with keyword research to find ranking opportunities.
Can I Rank is very detailed. Technically, it is a keyword difficulty analysis tool, but we recommend it here since it helps you with the answer to a very important question: "Can I rank for X keyword?".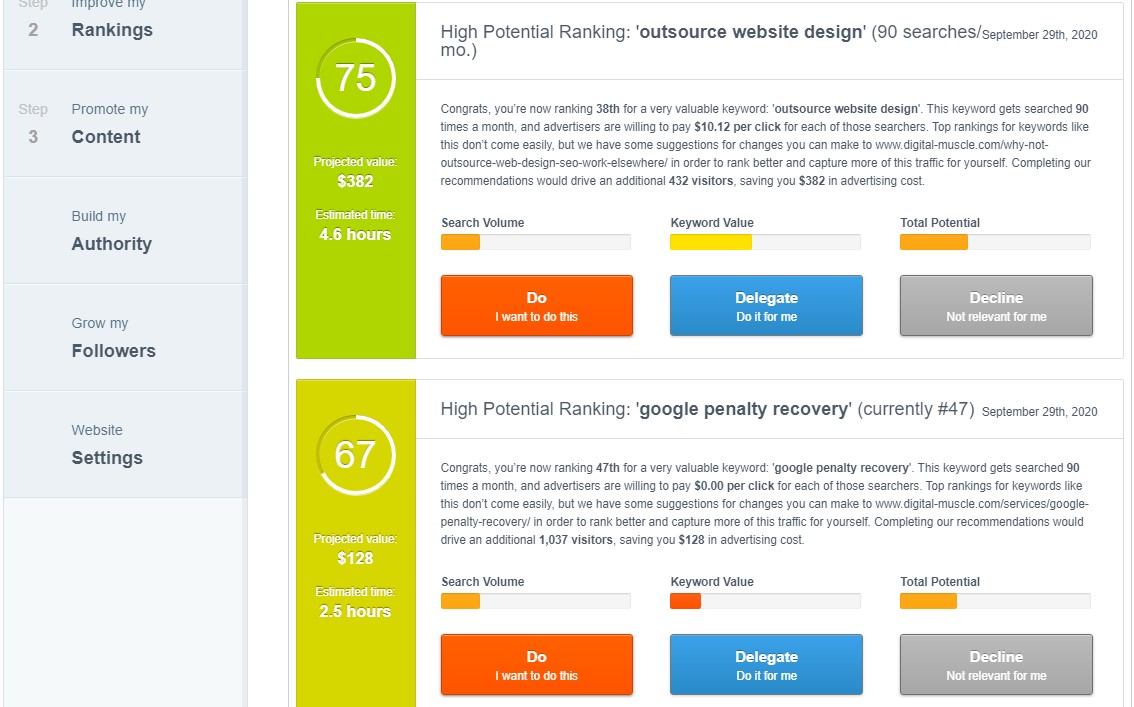 The great thing about Can I Rank is that it does not offer generic advice. It tells you exactly if it is possible for you to rank or not, together with many other things, like helping you promote your content, improve rankings, improve page speed, and you can even use it to find some new keywords to consider.
Extra Tip: You may want to also use a free backlink checker. There are many available online and you can easily find one with a Google Search. Just type in "free backlink checker" and choose the one you are comfortable with.
Local SEO Tools
When your business has a local target audience, like when you offer local cleaning services, you need local optimisation. The importance of this should never be dismissed. At the same time, when you have any official address, local SEO can help you, especially with the use of tools like these.
Whenever talking about local ranking, Google My Business is a vital necessity. This "directory" allows you to add your NAP (name, address, phone) in Google Maps and so much more.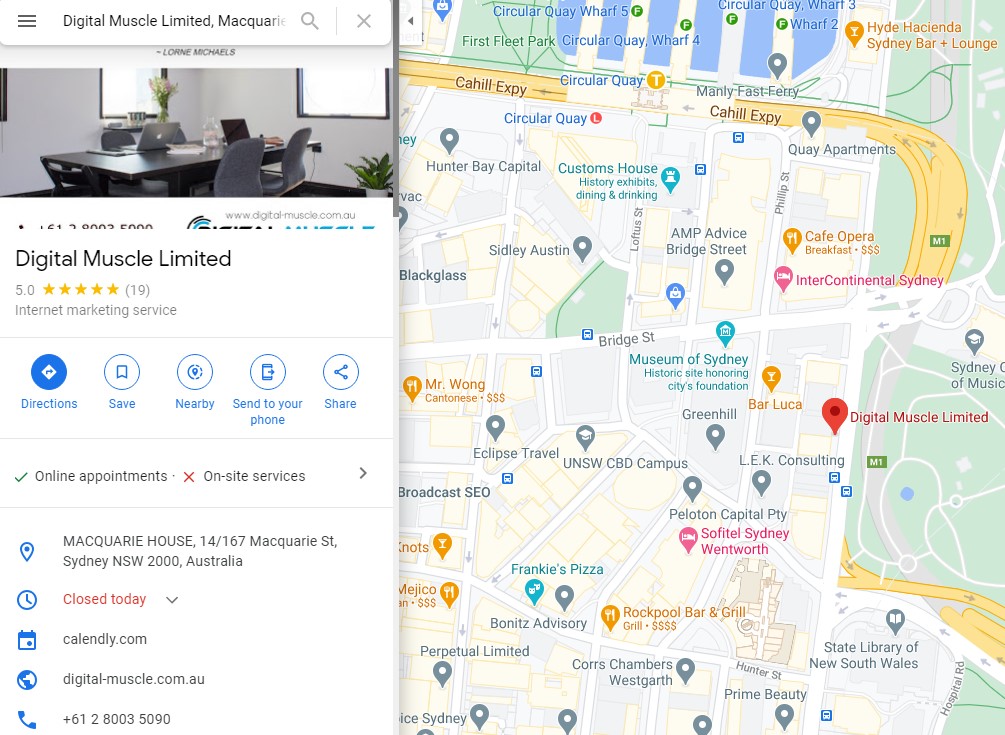 In a world where more and more searches are done with mobile devices and people actively look for businesses near their physical location, being present in GMB is the first thing to do.
Claiming the business profile in Google My Business is the first thing you have to do in local SEO and it is the foundation of numerous future activities.
When local targetting is a part of your campaign (there is a very good chance it is), BrightLocal's Local Search Results Checker allows you to quickly get the search results for the desired location. This tool is very precise, going as deep as ZIP, town, and city levels.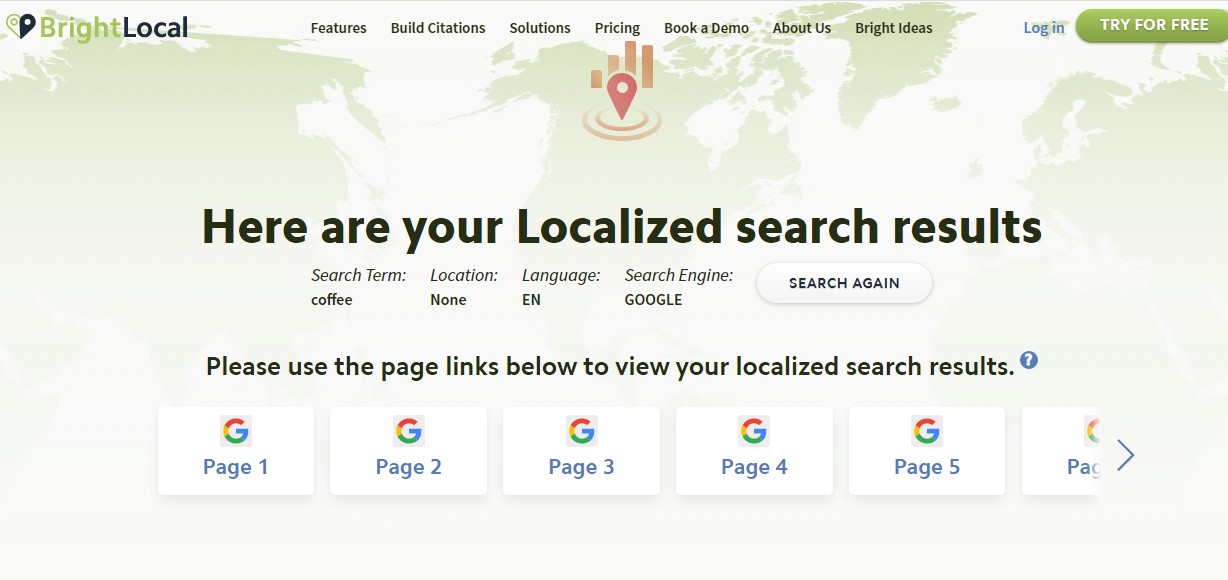 Based on what country you do a search for, the language can also be specified.
The big reason why we recommend this tool is that it saves you a lot of time. You can perform all the queries manually but this is often time-consuming.
Whitespark's Google Review Link Generator is exactly what the name implies: a tool that generates the business review link needed to leave a Google review.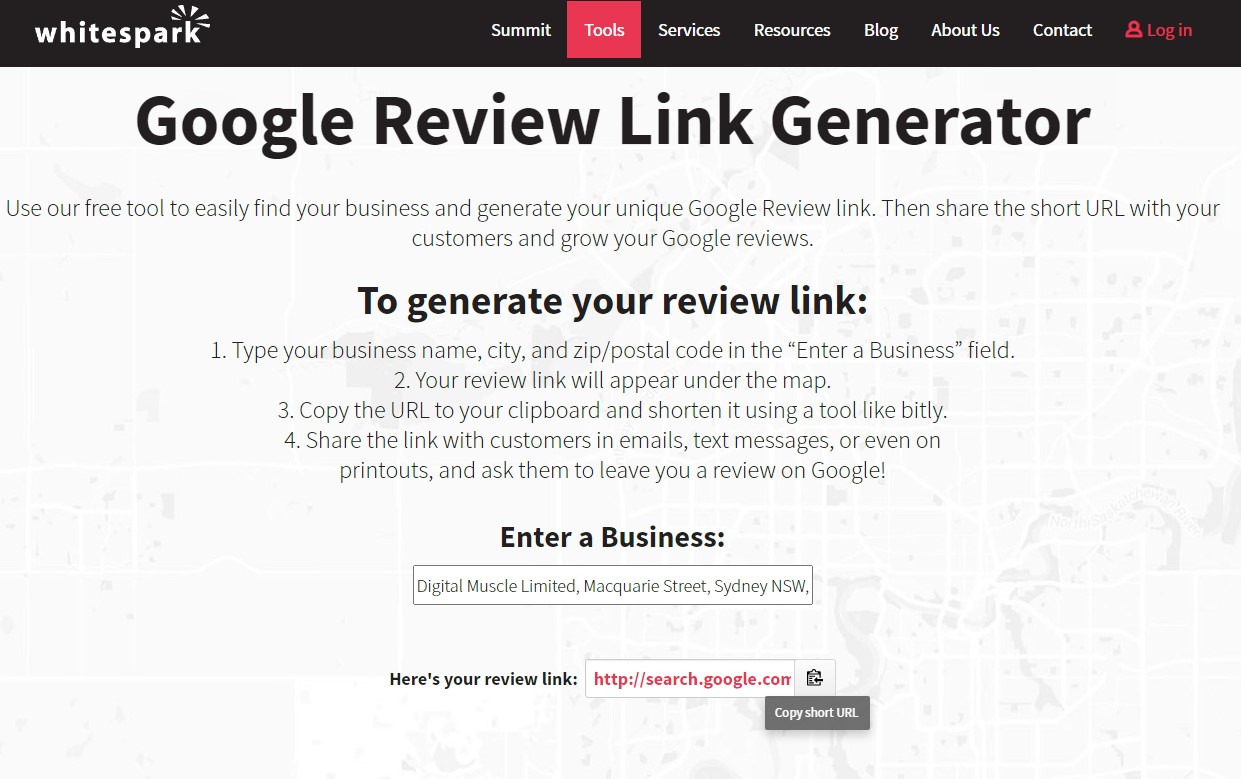 Reviews help drive local rankings. The problem is that Google does not make it easy to get a link you can just give your customers so they can leave a review, like through an email. This SEO generator makes the process very straightforward and simple.
Other Free SEO Tools To Consider
While the tools we mentioned above can easily make you much more competitive and will be of great help in creating better SE optimisation campaigns, you might want to also consider using these 2 extra ones recommended.
Staying ahead of the curve is something every marketer wants as they look at their keyword planner. When you find very popular keywords everywhere before they become way too competitive, you gain a huge advantage. This is where Exploding Topics helps you.
The one thing that this tool does is show you topics that recently started to trend. This allows you to create great content around the emerging Google trends identified.
For instance, when you enter "green tea", it shows you an interesting recommendation, "matcha tea".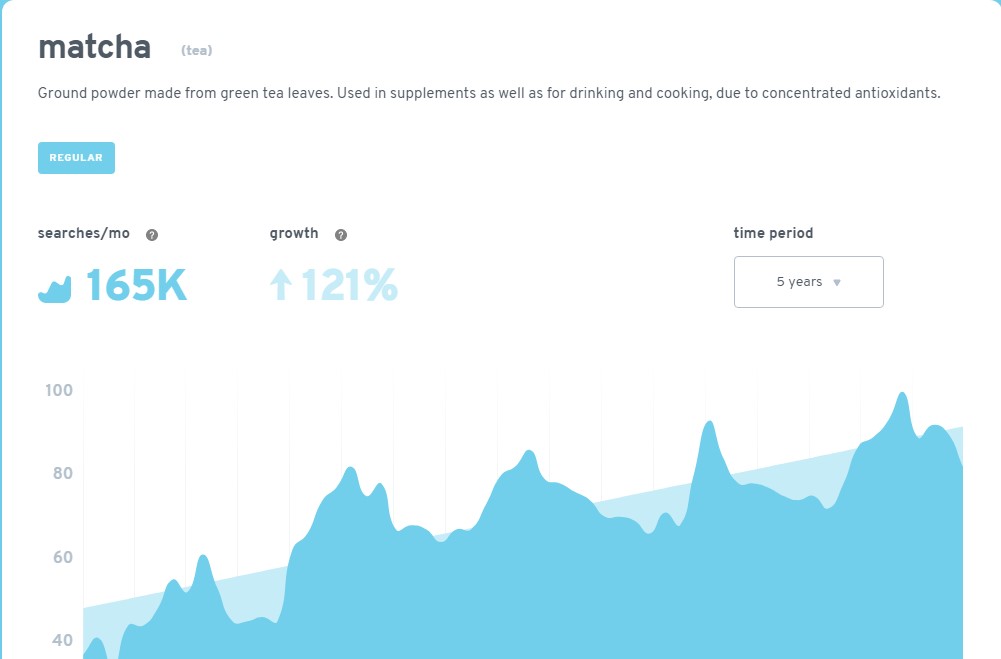 As you can see, this keyword has constantly been gaining popularity in the past 5 years.
Look for new topics to cover and make sure you also consider the Categories presented since they are very detailed.
With Detailed, you can see what the most popular websites are in the industry you operate with. This allows you to see what the biggest competitors do. Analyze them to see how they got to where they are.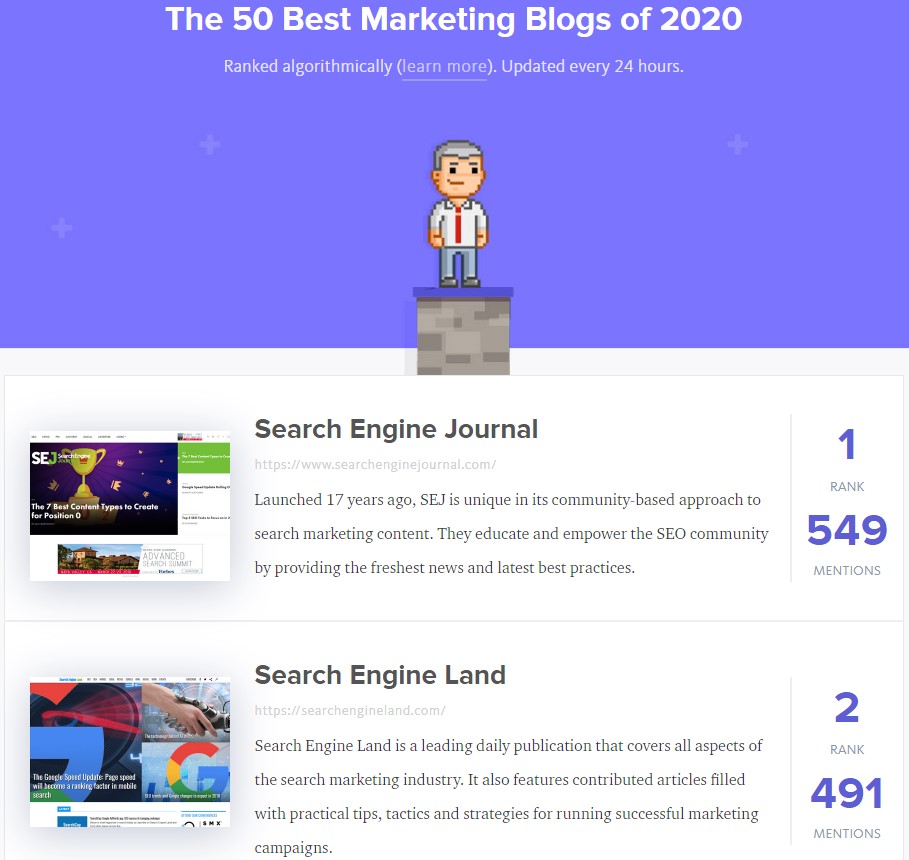 Detailed also offers a very interesting feature in "Mentions". This allows you to see who recently linked to the competition or mentioned the competition. Such mentions show you even more websites you could analyze.
Conclusions
We handpicked 20 very useful SEO tools you can use for free to cover most of your search engine optimisation needs and help you with keyword suggestions. Learn how to use them and do so and it is guaranteed that you will see increases.
Obviously, after some time, you will want to seriously consider some paid SEO tools for improved SEO performance or you might want to hire an SEO agency to do the work for you (we would love to help, just get in touch).
Until the time comes when you can afford better tools, use free options and respect the SEO best practices.
Are there any free SEO tools that you feel we should have mentioned and we did not? Reach out on Twitter and let's start talking. We would love to hear your opinion and recommendations.