Looking to convert more leads into actual customers?
Say no more! I already know the answer is yes, so we need to explore the topic of conversion rate optimisation (CRO).
The truth is that no matter how good your conversion rate is right now, it can be higher. However, this is only possible when you fully understand your target audience, be it customers, general users, or visitors.
AND
You offer what they need or want!
At its core, CRO is all about satisfying your target audience.
In this guide, we will go through all the information you need to understand conversion rate optimisation fully. We will even tell you what tools you could use.
It does not matter if you do SEO or social media marketing. If you want to create compelling content and engage with people after you hit the publish button, the guide below will help.
Table of Contents
Let's Understand What Conversion Rate Optimisation Is
MOZ offers this definition for CRO:

CRO is all about looking at a lot of data and then making modifications to increase conversion rates. The problem is that when we take such an approach, it is so easy to forget about the user.
A much better way to look at conversion rate optimisation is to think of it as a process through which you understand what persuades, stops, and drives users. You do this to offer the best possible user experience. When you manage to do this, you naturally improve conversion rate.
Before the conversion, different things happen:
Drivers – They bring visitors to the site.
Barriers – They make visitors leave.
Hooks – They persuade users to convert.
When you want to improve conversions, it is challenging to use numbers to quantify everything.
For instance, when you have a bug that blocks 50% of users from signing up to a newsletter, all you need to do is to fix the bug. However, when everything works as it should, and conversions are still low, it is time to look somewhere else for the problem.
What Do We Mean By Conversion?
A conversion happens when a visitor completes a goal, and there are numerous types of goals. Generally, we divide them into two categories:
Macro Conversions:
Buying a product or a service
Subscribing to a paid newsletter
Filling out a form to ask for a quote
Micro Conversions:
Subscribing for a free email list
Adding a product to a cart
Creating a site account
What Do We Mean By Conversion Rate?
A simple definition of conversion rate would be:
The number of conversions divided by the total number of prospects
This takes different forms based on the goal you have. For instance, the conversion rate of a website is:
How many times a goal is completed by a user divided by website traffic
When you sell subscriptions, the conversion rate would be:
How many subscriptions are sold divided by the number of users
The big difference between conversion rate optimisation and conversion rate for paid ads or search engine optimisation is that with CRO, the focus is put on what happens after the prospect reaches the website. With the other options mentioned, the emphasis is placed on how many clicks lead to the site.
How Conversion Rate Optimisation Benefits SEO
As already mentioned, CRO is not about attracting website traffic, but it does have some clear benefits for search engine optimisation. The most important ones are:
Improved ROI – When you have a higher conversion rate, you gain more resources without having to receive more traffic.
Improved Insights – You can better understand the target audience and learn how to attract people, so they complete the goal you have. CRO is all about locating the best customers for a business.
Improved Scalability – The audience size rarely scales as the business grows. This can create problems for smaller companies. With conversion rate optimisation, you increase business growth without having to worry about running out of prospective customers. You turn more of the visitors into buyers so the business can be grown more efficiently.
Improved User Experience – CRO will study what is effective on your website and what is not. This automatically improves overall user experience, which in turn makes people stay longer on your site.
Increased Trust – For the user to share an email address, credit card details, or other personal information, trust needs to be established.
Is My Conversion Rate High Or Low?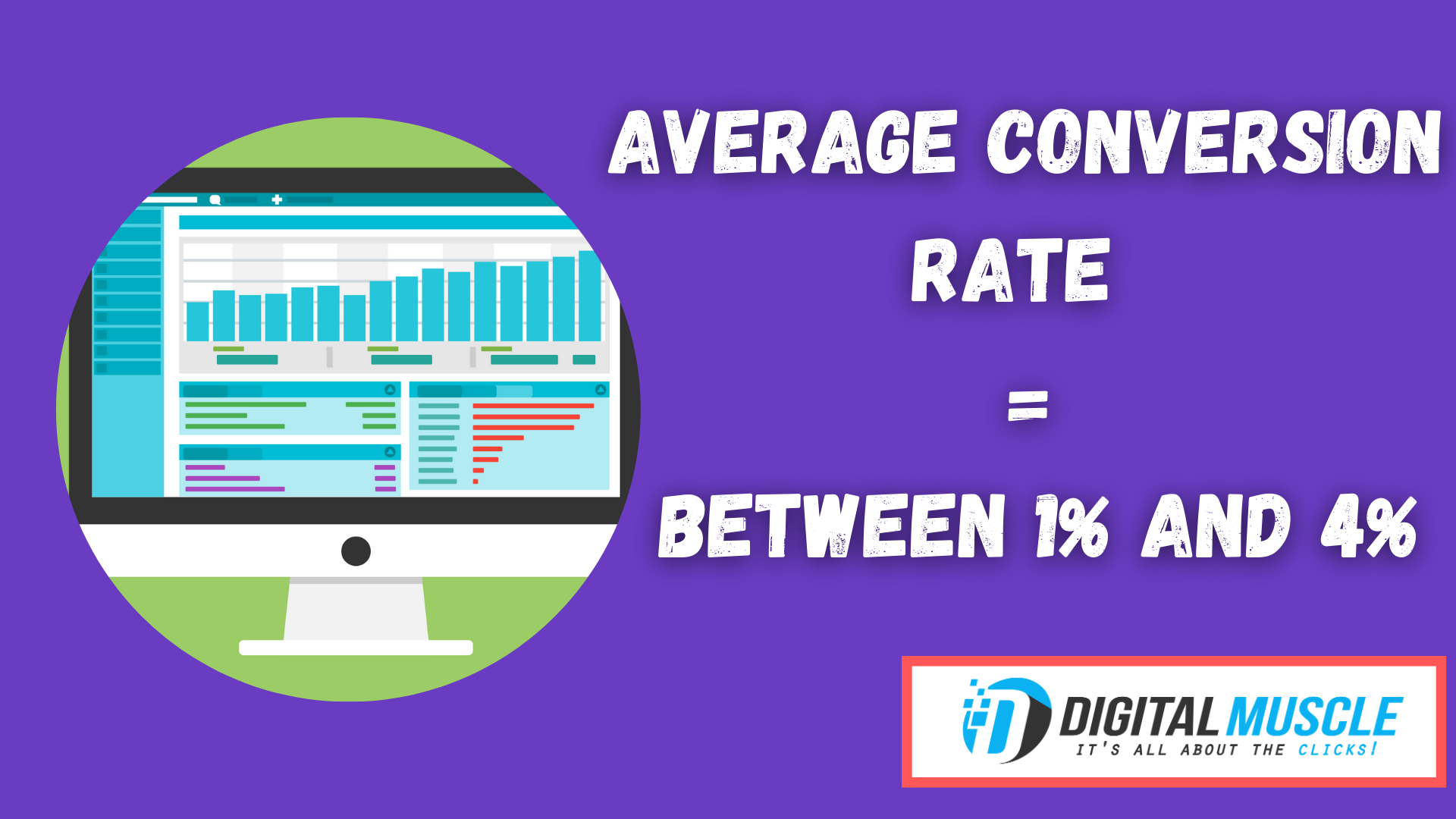 Every single experienced marketer will tell you that conversion rates wildly differ from one business to the next and from one conversion goal to another. For instance, the average conversion rates for newsletter signups will be completely different than the average conversion rates for cart checkout completion.
The average conversion rate is usually between 1% and 4%. However, because every single audience, page, or website is different, this will vary. Also, most businesses do not share conversion data, so it is complicated to determine the real average.
This simply implies that it is hard to gauge out the ultimate industry figure you can rely on in the hopes of seeing whether your conversion rate is good or bad.
Instead of focusing on numbers and averages, it is better to focus solely on your website. You do this by understanding what is essential for the user. Give them that and conversions naturally follow.
Conversion Rate Optimisation Tools
The good news is that most of the best conversion rate optimisation tools are completely free. They are our eyes, mouth, ears, and ultimately our brain. These are the primary tools we actively use to understand our customers and make significant changes that will improve conversion rates.
With this in mind, you should always:
Listen to what users say about your site (a great way to do this is to use social media)
Be involved in the industry
Pay attention to how people use the site
Talk to the designers and developers
Connect different feedback sources
Talk to the sales department staff and the customer support staff
Besides these tools, there are also traditional tools that can help you to improve conversion rates. We divide them into three categories:
1. Quantitative Tools
These are tools that allow you to collect the numerical data that tracks what happens on the site. Examples include:
General analytics tools – These track traffic, with Google Analytics being the most recommended one.
Funnel tools – These measure visitors that do not convert after entering the sales funnel.
Website heat map tools – These aggregate webpage user movement, like where the mouse moves and what the user looks at when browsing.
CSAT (customer satisfaction) tools – These measure customer satisfaction. Usually, the scale used is 1 to 10.
Form analysis tools – These track form submissions.
2. Qualitative Tools
These tools allow you to discover why something happens. They collect non-numerical data you use to figure out why website visitors perform a specific action. Examples include:
Website feedback tools – These allow the visitors to answer questions about the experience they have on your site.
Usability testing tools.
Website session recording tools – These show you how users navigate the site.
Online reviews.
3. Tools That Measure Improvements And Test Changes
After you collect qualitative and quantitative feedback, you start to understand what happens on the website. Then, you use testing tools to analyse changes. This is a fundamental part of the process because you get to see if the conversion optimisation changes you made are effective. Examples include:
A/B testing tools – These help test various page variations to find the best option to implement. This is highly recommended for the high-traffic websites because you can use a lot of data to be sure results are valid.
Conversion-tracking analytics tools – These monitor and track conversions.
Website heat map tools – Together with session recording tools, these allow you to compare the behaviour of the users when offered different page variations.
Website feedback tools – These tools help collect qualitative feedback that is then quantified. As a result, you compare before and after responses to the changes made.
How To Use Conversion Rate Optimisation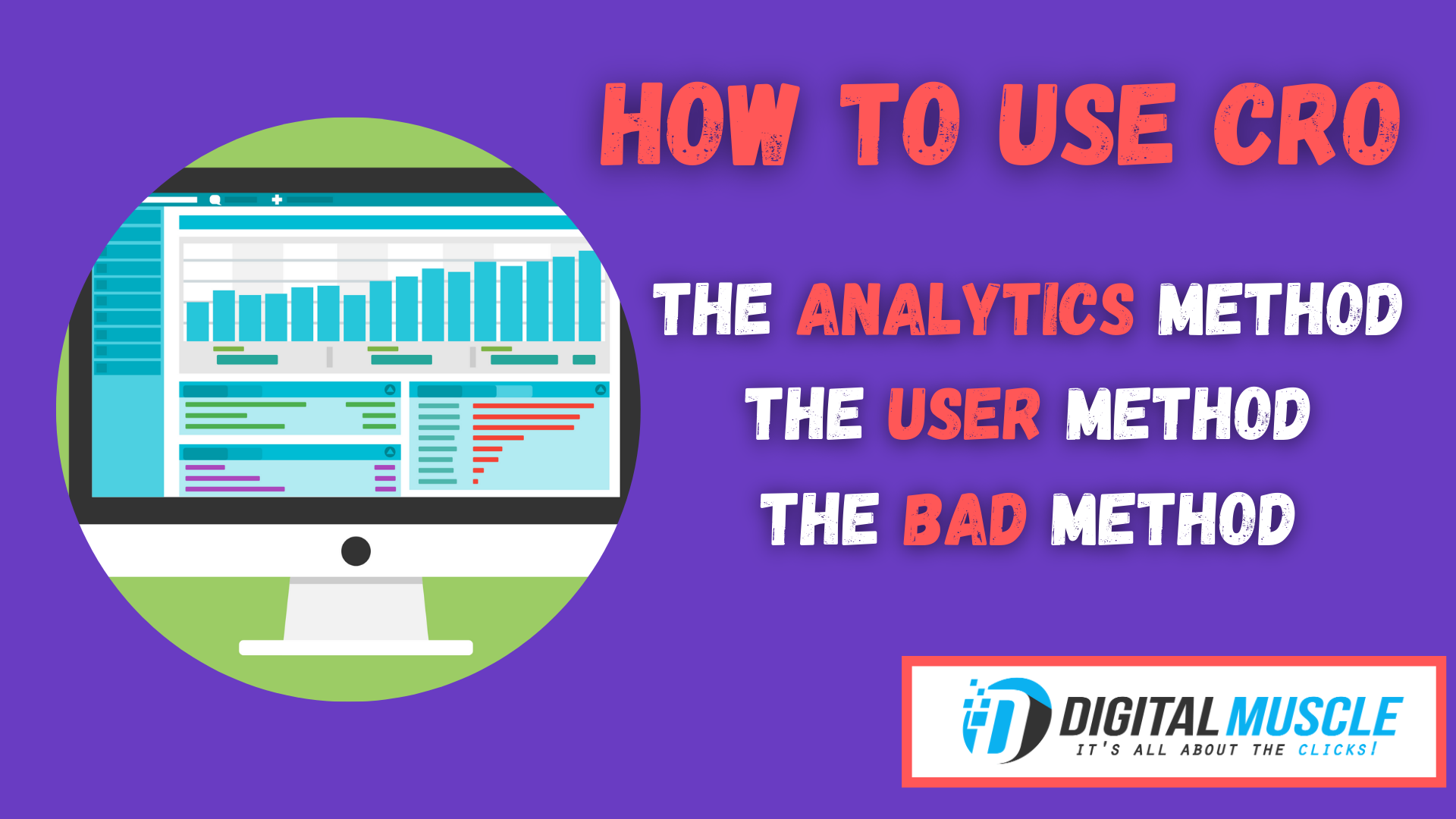 When you want to optimise conversion rates, you need to know:
Where to optimise
What to optimise
Who you optimise for
Without this information, you cannot employ a successful CRO strategy. There are three methods to use.
The Analytics (Quantitative Data Analysis) Method
With Analytics, you receive hard numbers associated with how people behave on the website. You can start by implementing the regular Google Analytics or the new Google Analytics 4. Then, you add conversion tracking.
With analytics-based conversion rate optimisation, you answer major questions about how users engage. You thus gain data like:
What webpage is first visited by site visitors.
What referral traffic comes to the site.
The features that users engage with (for instance, where on the site the user spends the most time).
What browsers and devices the visitor uses.
Where the user abandons the conversion funnel (for instance, the activity after which the user leaves the site, like having to register for an account).
Who the customers are (gaining information like interests, demographics, and age).
The analytics method allows you to pick the pages and features that are the most valuable for the users.
The User Method
You perform a quantitative analysis whenever the site is large, and the content is diverse. However, this is not enough for CRO. What is necessary is to understand why specific behaviour happens.
With the user method (practically qualitative data analysis), you take a subjective approach. Simply put, you identify users you have to focus on with your change with the use of quantitative data. You get data to analyse through:
User testing
On-site surveys
Satisfaction surveys
With qualitative analysis, you optimise for site conversions by gaining user information like:
Why the user engaged with an offer
Why the user decided to visit the site
What the user thinks about an offer
What words the visitor uses to describe services and products
Raw data is not capable of telling you why a visitor came to the site or how his/her experience can be improved. However, when you combine analytics data with the user method data, you identify the best possible opportunities to engage with your target audience and optimise.
The Bad Method
To optimise conversion rates, you always need to use data and analyse it properly. You cannot do this when you use CRO methods like:
Gut feeling
Hunches
Guesses
Performing CRO simply because the competition does it
These methods are completely ineffective and are not data-based. You need to create meaningful conversion tests after gathering and analysing data.
Conversion Rate Optimisation Tips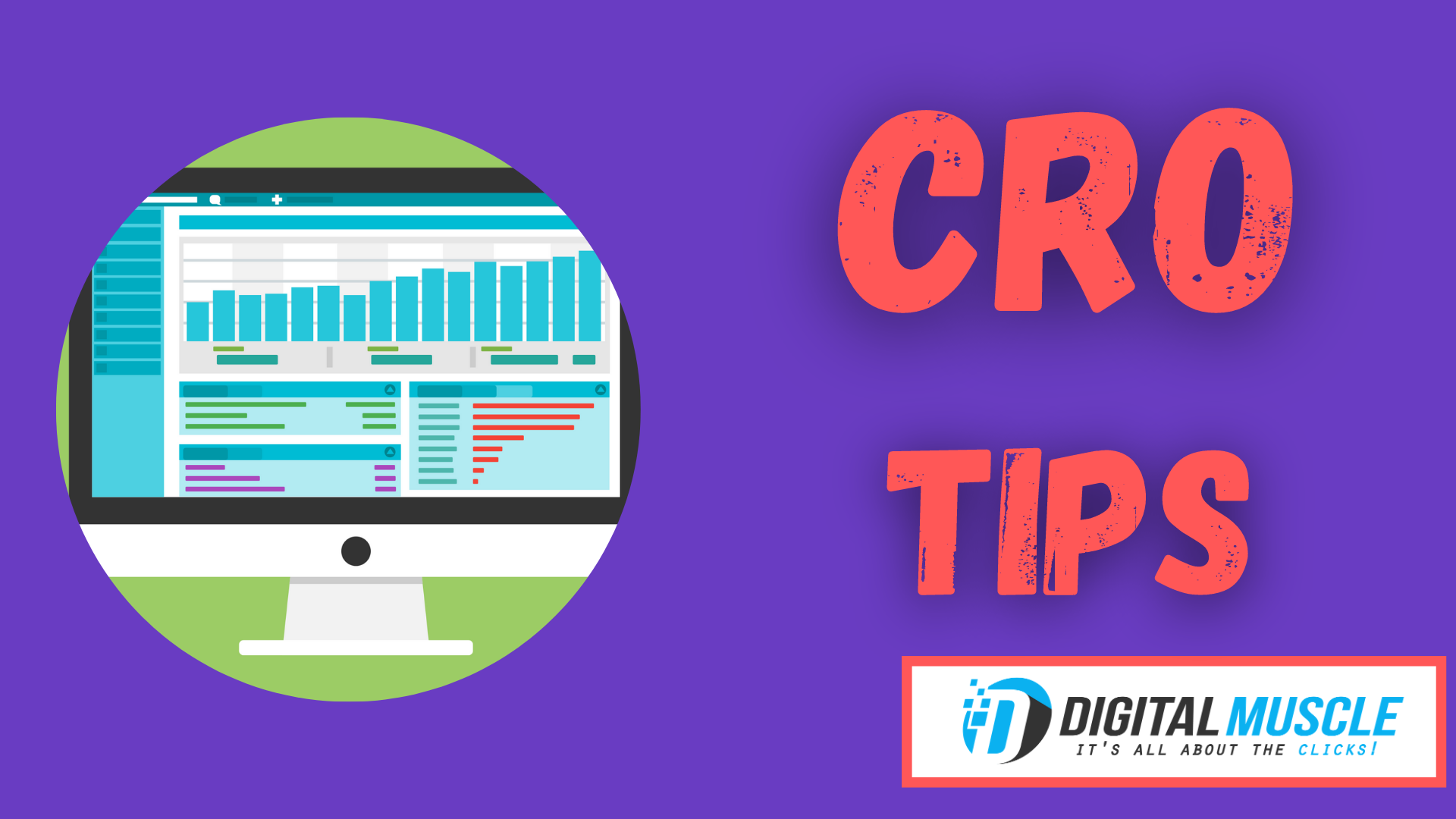 To take your CRO attempts one step further, let's also look at some actionable tips that will instantly help you get the job done RIGHT.
Find Out Why Visitors Do Not Convert
It is imperative to look at the big picture when you optimise conversion rates. You want to improve the website, and you cannot do this by guessing, which is exactly what many do right now.
The typical approach is to make some random changes based on gut feeling. Instead of doing this, you need to put in the work and find out why visitors do not convert. Usually, the answer to this comes from research, especially in these three vital areas:
Understanding different types of visitors and their

individual intentions.

Identifying

problems

with user experience.
Understanding the

objections

of your visitors.
At first glance, all this will be overwhelming. However, with the right CRO tools (those mentioned above), you will see that the process does not take that long.
After you identify some possible problems and decide on the modifications you can make, plan A/B tests. Then, when your tests are over, just implement the best-performing changes.
Analyse All Parts Of Your Sales Funnel
Remember that every single step in the buyer journey, which is what we call sales funnel, can be optimised. There is a conversion rate associated with every step.
For instance, when you have a newsletter, the first step is completing a form. Then, the second step is opening the email received. After, another step is clicking on a link inside the email. These are all examples of sales funnel steps that can be optimised.
Many marketers simply define content rate optimisation as the simple definition we mentioned:
The number of conversions divided by the total number of prospects
Because of such a narrow approach, people make terrible decisions. For instance, changing some colours on the landing page can lead to an increase in sign-ups of 1%. This is seen as a win.
A highly experienced specialist in CRO might be able to recognise some more significant gains that could appear in a previous step of the sales funnel, like where the traffic comes from. As a result, he might invest more in social media ads and get a higher overall conversion rate.
Listen To The Market
Listening to the market is one of the best ways to improve conversion rates. This means paying close attention to what the market wants.
Most business owners think about what they want to offer, which is not necessarily what the market wants.
We can go even further and mention the fact that people in different markets talk in different ways. If you want to convince them to do something, you need to speak their language, not yours.
Unfortunately, most companies do not listen to their market. Even worse, they do not listen to the needs and wants of their desired audience. As a result, their conversion rates are much lower than they could be.
Dedicate a part of your budget to targeted research. You need to learn a lot about your target audience if you want a part of it to become customers.
Build Relationships
People want to buy from people, not from brands. This is why influencers are so effective when it comes to selling something. They make a recommendation and their loyal following converts very well. The reason for this is the relationship that was created between the influencer and the followers.
We all know it takes time to make friends. In the CRO world, friends are conversions. You have to invest time and work on your relationship. This process is ongoing and involves several important things:
Truly understanding your product/website
You need to know everything about what you sell, including potential, weaknesses, and strengths, just to mention some common aspects.
Truly understanding your users
By now, you surely figured out that this is a huge part of CRO and we did talk a lot about it above. So, we will not go further, but remember that people have to be treated differently based on their unique needs.
Just as with any long-lasting relationship, you have to keep improving and always have communication channels open. You get one conversion, but in the long run, this is not a huge win.
By staying in touch with your current customers and interacting with them, always in a human way, you build the long-lasting relationship we refer to when we say REPEAT customers.
Conclusions
Conversion rate optimisation is a lot more complicated than most people think. What we mentioned above is just the tip of the iceberg. There are unmentioned points that we have yet to highlight.
At the end of the day, you would want to increase your conversion rate. To do this, you need to work hard and invest both time and money.
If there is only one thing that you remember from this post, it should be that people are different, so you need to learn how to properly convince the visitors to trust you and spend money on your services/products.
As always, if you need professional help, we are here! Just contact us and get your free quote!