So, you are building a company from scratch but your budget has limits.
With your limited budget, you thought putting up a website and marketing through social media to attract the right customers would be a good idea. It is… BUT it is not as effective as you might think.
Getting more customers is crucial to your fledgling company but reputation is another concern. You remember hearing and reading about affordable SEO services and their positive effects on startups but doubt whether or not you really need them.
While several companies claim to offer quality SEO services to small-medium businesses, the truth is that not all such companies are capable of getting you results. The overly cheap ones, those too good to be true, tend to have a shady side and may even employ black hat techniques or shortcuts generally not accepted by SEO standards.
FACT
You're operating on a limited budget so expensive is out of the question. Would affordable SEO services be any better? Certainly.
But before you let SEO companies take charge of your online marketing, check whether the services below are present. Remember that there is a HUGE difference between cheap SEO and affordable SEO. You do not want to use an SEO service that uses black hat strategies for quick rankings.
1. Digital Marketing Agency Consultation
Other SEO companies claim to have in-house experts that guide businesses to success. When you go to their website, however, you only see a list of generic SEO services such as building thousands of backlinks, providing content for blogs, posting on social media and the like. There is hardly any mention of concrete strategies.
They will throw anything your way just to give you a feel of SEO without bothering to know what your business is about, what business model you adopt, the kind of market you serve, or whether you operate locally or internationally.
An authentic SEO agency, on one hand, carefully looks into your business history, conducts a SWOT (strengths, weaknesses, opportunities, and threats) analysis, matches your business needs with a suitable package, and suggests the most viable strategies while paying attention to your financial capacity.
Unlike other SEO specialists, Digital Muscle offers holistic SEO service packages at reasonable costs. Our affordable SEO services form part of a time-tested, results-driven digital marketing strategy that has raised websites from utter obscurity to the top of search engine results.
Not sure what type of digital campaign is perfect for your business? Consult us! Our SEO experts can be reached by phone or email. Send us a message and we will immediately arrange your appointment.
During the appointment, we will ask very important questions to build a unique SEO package. We want to know:
As much as possible about your business.
What you want to sell or what your goals are.
How much you want to invest in your SEO efforts.
Specific details about your business to perform initial keyword research.
Many other things.
Our consultation will help us to determine your needs and wishes. Then, we can build a plan that will help you reach your SEO goals. You tell us what you can afford to pay per month and we give you access to affordable packages designed based on what is important for YOUR website.
2. SEO Strategy
For SEO to work to your advantage, you need a solid digital strategy.
Simply put, a digital strategy is the proper mobilisation of online tools and resources so that target customers can easily find your website online and buy from you, thereby earning you a sustainable income.
SEO brings a wonderful long term return on investment. In fact, this is one of the main reasons why many of our clients have been dominating results in search engines for years.
But, understand that different businesses require different SEO strategies. Just because other businesses market their products and services in a specific way does not mean the strategies they use will also work for your business.
Some businesses have a good online presence but have trouble converting their website visitors into actual clients. Others have a poor online presence and earn revenue from social media and traditional marketing, but they know that they have to step up their online marketing if they really want their business to grow.
In either situation, a viable SEO strategy is necessary. Digital Muscle identifies the best strategy for your business by looking into all aspects of your search engine presence including:
Search position and search appearance on various keywords.
The quality of your backlinks.
Keyword research.
Web traffic from various sources.
Click records for each web page.
Surfing behaviour of your target markets.
The best part of SEO strategy is that once you build it, you can easily stick to it for the long run to get results. Creating such a strategy is so much more affordable than you might believe. When an SEO agency tells you that the SEO campaign will lead to first page results in 3 months or less, you are looking at black hat SEO strategies that will hurt your website in the long run.
We only use white hat SEO to help your business grow!
When you work with the Digital Muscle SEO team, we create an SEO strategy by:
Assessing and evaluating your business needs
Creating a competitive SEO analysis
Finding the best keywords for your campaigns
Finding link building opportunities
Performing a technical SEO analysis of your website
More
Read more about our SEO strategy creation process HERE. You can also check out our Case Studies for more information.
3. PPC And Media Buying
Companies, startup or not, need to allocate a portion of their marketing budget for paid advertising.
Pay-per-click advertising may sound daunting at first because you know all too well this type of advertising is not for free. As a startup business, investing money in something that may not generate ROI is a scary prospect.
The good news with PPC is that you can actually set the parameters on your budget. You decide how much money goes into a PPC campaign and you will only be charged for users who actually click and engage with your advertisement.
Companies with a higher budget at their disposal do not mind spending more on pay-per-click advertising and paid media resources, all while also using SEO strategies and other marketing options. Their main goal is to get their brand name out there, which will eventually get them the right customers.
Unfortunately, if you are like most business owners, the nitty-gritty of PPC and media buying escapes your knowledge. Do not worry your head off. Call the experts and leave everything to them.
Digital Muscle can set up a PPC and Native Ad campaign on your behalf. We also make use of programmatic technology and advertise via paid media channels.
We can help you to:
Launch a PPC & Native ad campaign
Make use of programmatic technology
Advertise via the right media
Of course, all of this is done at completely affordable and right prices. Learn more about PPC and Media buyingHERE. A digital marketing and PPC expert is just one click away!
4. SEO Geo Targeting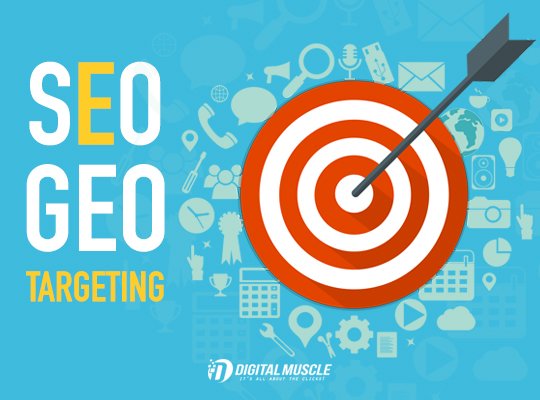 Digital Muscle is the top-rated SEO agency in Australia, providing Local SEO and geo-targeting services. We help you dominate your competition with our geo-targeted service and tailored approach to boosting business visibility online through Local SEO. Learn more about our SEO services for Sydney, Brisbane and Melbourne.
Anyone specialised in marketing knows how important having a target location is. Ranking high on global search results is often a molehill for digital marketers. Much like dropping something in an ocean where chances of getting found are very low.
Whether offline or online, knowing which location to promote your products and services to can leverage your business. Thankfully, search engines and web tools now offer geo targeting features that allow website owners to localise their content dissemination and advertising and narrow down their marketing campaign to a specific country.
SEO geo targeting makes it easier to level the playing field and can help your business increase local revenues.
Your business does not have to jump into an ocean of competitors at the cost of drowning and wasting your marketing budget. Sticking to the rivers and the lakes you are more familiar with gives you better control over the direction of your business, particularly if you cater to a specific niche.
The smaller your target location, the higher your chances of getting seen. This is not to say you should avoid expanding globally to reach out to more target markets and increase your income sources, but do so only when you gain a foothold in your chosen market.
GEO target SEO is rather new in the industry (when compared to other strategies used). Because of this, remember that not all digital marketing agencies will offer you the SEO advantages someone experienced can.
Ever since local SEO and geo targeting became relevant, Digital Muscle specialists have been working and helping clients dominate local search results. We do this by:
Using ccTLD
Valuing local language
Using everything Google Search Console offers
Securing server location
Always including local contact information (NAP)
Some trade secrets (we need to keep some)
Learn how we use GEO targeting strategies HERE and arrange a free consultation when you contact us for extra information. Leverage your local clients with truly affordable SEO local campaigns that bring in results.
5. SEO Copywriting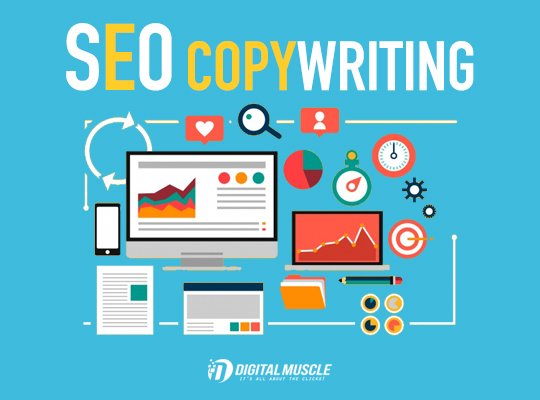 Content gives meaning to your company website or blog. It tells the story of your business, what you have to offer and what sets you apart from the rest. Content connects you with your customers, ensuring that your company vision/mission and what your customers need from you are on the same page.
Depending on its purpose, content varies in depth, meaning and force. Content designed to pump up your marketing is handled by a copywriter. The art of copywriting is more than just arranging humdrum textbook information.
Good copywriters produce targeted content with your business goals and your target customers in mind.
Merge SEO with copywriting and you get a website with lots of traffic AND real customer engagement. Effective SEO copywriting constitutes the following:
Grabs the attention of readers and potential customers
Provides useful information to everyone, be it end-users or random website visitors
Converts a potential customer into a real one
Helps search engines identify your niche market, industry or neighbourhood
Gives end-users a better understanding of your products and services
Contains targeted keywords
Pays attention to content length, quality, coherence and relevance
Customises according to the platform used.
To put it in simple words, SEO copywriting is copywriting on steroids since it also sends the right signals to search engines to rank your content higher.
We work with top SEO copywriters and manage to offer some of the most affordable SEO copywriting options available in Australia right now. Right now we offer:
Website copywriting
Blog writing
Article writing
Press release writing
Social media content writing
Much, much more
It does not matter what you need to be written. Our professional SEO copywriters can get it done at affordable prices. Learn more about our copywriting process and see why you want to contact us for copywriting
6. Social Media Marketing
Besides the affordable SEO services we mentioned above, we also have to highlight 2 seemingly unrelated services any small business has to take into account.
Modern search engine optimisation is not only made out of strictly SEO packages. It is all about a fully-optimised and complete internet marketing strategy that incorporates what makes sense for the business. This does range from quality cheap SEO services to other mediums that can improve SEO results, like social media marketing.
Social media has more than 3 billion users. And it is growing every single day.
This means you can tap into a huge pool of potential markets with little initial cost. Unfortunately, it is not enough to have an available audience for your marketing campaign. How you market your website and your product offerings on social media and to whom will fuel business growth.
The right use of social media can work wonders for businesses!
Any business can create a page on Facebook, post a few times per month and speak about their services and products but effective social media marketing is another thing.
Some startup companies worry that spending too much time on social media diverts their attention from their main business operations. They would rather leave the maintenance of their social pages to other people, no matter how inexperienced they are in the field of internet marketing. This would be a mistake.
Remember the fact that social media signals help the small businesses to get first page Google rankings. In fact, every single serious SEO campaign and most SEO packages these days include some sort of social media component.
Digital Muscle makes sure startups get more than what they bargain for. Our SMM campaigns always work because we take out the inessentials and zoom in on 3 important strategies many self-proclaimed social media marketers leave out in their own SMM campaigns.
First, we set up social media profiles to disseminate information about a business and make potential customers aware of its existence. This seemingly low-cost search engine optimisation strategy is much more effective than what many believe, WHEN DONE RIGHT.
Second, we design graphics and banners in consonance with your business goals. Although this is rarely included in an SEO package, as an experienced SEO company, we know that branding is just as important as regular promotional strategies.
Finally, we create informative, attention-grabbing and relevant content and post at times when user engagement is high. This will always deliver results and Google will see that more traffic comes from social media. As a result, your long term search engine rankings keep improving.
Never underestimate the importance of social media when you do SEO work. In the short term and in the long term, there are numerous benefits. We believe SEO services should include social media marketing.
Obviously, your budget might not be high enough to use both affordable SEO services and social media marketing. However, you could always first focus on search engine optimisation and then you can add social media later. Regardless of the situation, learn more about social media marketing HERE.
7. Website Design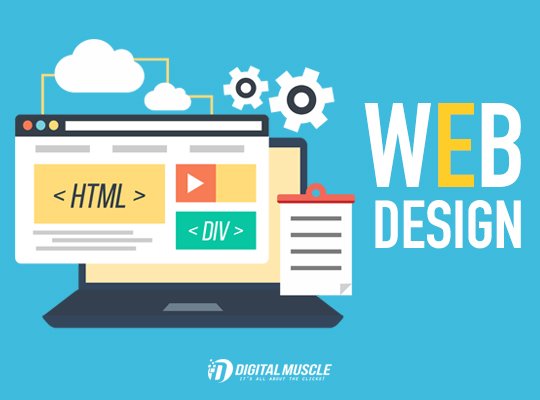 All small businesses need to understand that you cannot get on the first page of Google when user experience is not optimal. In fact, during our initial link building research, we often analyze the page to make sure that SEO techniques will not be hindered by website design. If we find errors and we know optimal results cannot be gained because of the small business website design, we tell you.
colour
text organisation
layout
graphics
font size
ease of navigation
page loading speed
All these affect user experience. Your website is the best representation of your business. You effectively share your message through the pages of your site. Users feel a connection with not just your content but also with the appearance, functionality and user-friendliness of your site.
Startups with no capital for building a physical office can overcome this setback by optimising their website. Homemade businesses, for instance, can launch an eCommerce store which costs a lot less than getting an actual store. (We have a good eCommerce SEO guide on our Blog. Read it here.)
Outdated websites take much more time to rank on search results but messy coding and unresponsive layouts are just as problematic. Nowadays, before you even think about affordable SEO services, you need to make sure your site offers the best possible user experience.
Digital muscle's web design services address any web design or development necessity without draining your budget. Our web design services understand user behaviour, create maximum functionality for every website, and guarantee improved user experience. We install responsive designs for all websites under our care using the latest search engine-friendly coding styles.
Before you launch a low cost SEO campaign, you need to make sure your site is ready for it. Many cheap SEO services out there neglect this aspect. We cannot since it is pivotal for long term growth. Generally, you get a better return on investment when you first design a perfect website experience and you then start using white hat SEO strategies with a reputable SEO agency.
Why You Need Affordable SEO Services
Every business has its fair share of growing pains, particularly when it comes to online marketing. As a startup owner, ask yourself if such pains are worth enduring on your own. Or would you rather ask help from a tried and tested digital marketing agency?
There is definitely no shortage of SEO services available right now in Sydney, Australia, and literally any part of the world. However, keep in mind that most SEO companies cannot deliver good quality. This is especially the case when you choose very cheap SEO services.
Digital Muscle believes in transparency and affordability. In fact, our goal is to offer truly affordable SEO packages to our clients. We consistently reach the first page of Google and dominate search results in different industries because we understand what a small business needs. Most of our clients are small businesses and we love working with them.
Do you run a startup and you need affordable SEO packages? Contact us NOW!
We take the load off your back and let you focus on your front line operations. You can count on us to put you ahead of your competitors. Our affordable SEO packages are uniquely tailored for every single client and only include what your business needs, when it needs it.
Do you have a question? Contact us now for your FREE initial digital marketing and SEO campaign consultation.
PS: Our SEO services are affordable because we care and we run a 100% in-house business. We do not outsource and we can offer true low cost SEO that WORKS!