Voice search was the prized possession which was first introduced by Google on 14 November 2008. It was a mobile app for iPhone. Then, Apple introduced Siri on 4 October 2011. Siri was the start of a revolution that shaped up today's voice search command on search engines.
Stone Temple
is one of the most reliable research firms which conduct various kinds of research that helps many businesses to grow emphatically. Recently, my eye catches one of their research about people's reaction to using voice search. It was breathtaking and helps to provide vital inputs regarding how people are using voice search.
As a digital marketing agency in Australia, Digital Muscle take this research's conclusion quite seriously. Let's discuss how as a website owner, you can leverage these data to strategise your website for voice search.
But first, let's discuss their findings and see how you can use these inputs to good use.
Question By Question Analysis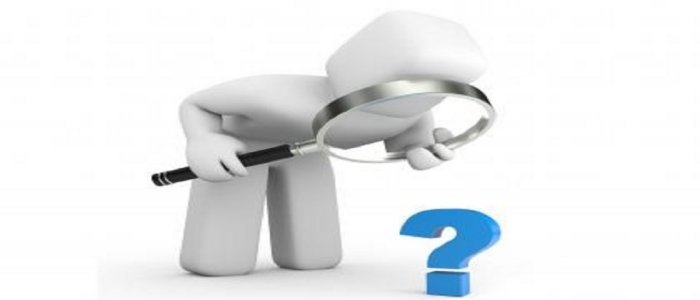 In this section, you will get to know the questions they asked their 1,000+ participants. Then we will create a bit by bit understanding of how these inputs can be used in your business to get the best out of it.
FYI (For Your Information!!!), the sample size was 1,000+ out of which 1,036 were the valid responses. Without further ado, let's get you started,
Where People Prefer To Use Voice Searches?
This section shows how the frequency of voice searches changes with the environment. People act differently when they are in public and private situations. The usage of voice search also differs according to that. Let's see how Stone Temple compares it with 2017 inputs. That can give a fair idea of how these changes can impact on your website's voice search optimisation process.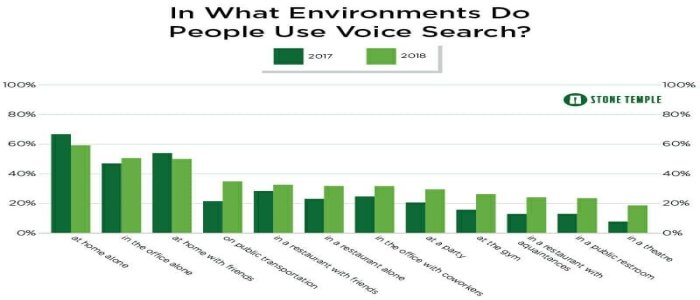 If you take a look at the above factors, the usage may seem down when people are at home alone. However, 2017 sample was quite enormous in comparison to the 2018 sample, so I reckon it a little less or equivalent. However, there is a significant rise in the voice search usage in public areas.
This shows how people are inclined towards voice search. Earlier people do not prefer public places for using voice search but at the dawn of 2018, these figures changed dramatically. Many SEO experts are shocked with this lift while some of them are not surprised at all.
This search was further filtered by Stone Temple. They analyse the results according to gender, age and education. Let's see what are the findings.
Before we get to any conclusion, let's see what are the findings,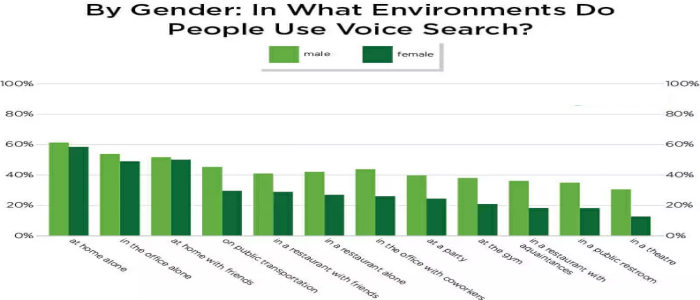 The gaps are pretty in favour of men. In the aggregate, the male tends to search 1.59 times more than females with voice search. This graph, however, claimed to be down by a small margin if you compare it with 2017. This aggregate was approx 1.77 times. Despite a marginal decline, men are still more inclined to use voice command in public place. Still, females are overcoming this margin and you can expect a steep rise in the coming time.
For this segment, they divided their target audience into 4 classes. The first one is 18-24, second is 25-34, third is 35-44 and the last is 45+. Let's see what they find out in their survey,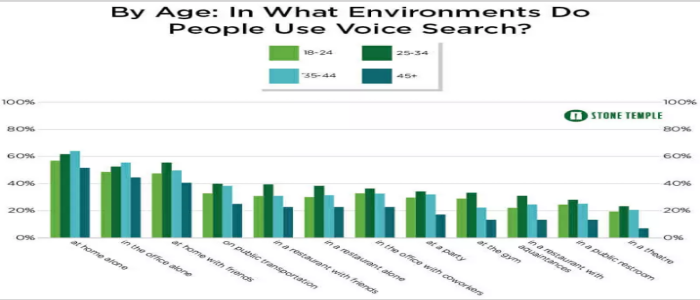 This clearly showed how the second segment group of 25-34 years of age people are using voice search on their mobile devices. In 2017, there was an impressive strength of the first segment users, i.e., 18-24 years, They were at the top of the voice search usage in public places. However, in the home and office usage, 45+ beats all of them by a fair margin.
These figures show that the acceptance of the old age people for voice search is growing. Young people are still the most comfortable group for using voice search command.
In the education section, they divide the sample into 5 classes. These classes are undergraduates, Graduates, college pursuing, college graduates, and postgraduates. How these classes respond is amazing.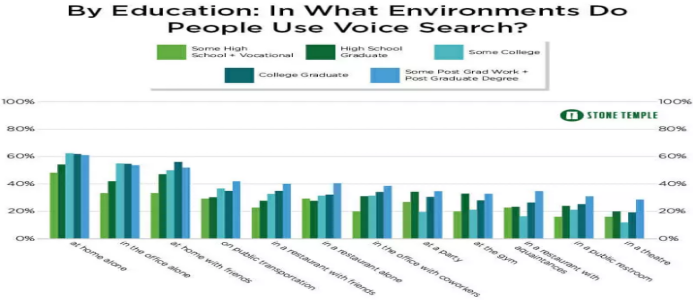 These figures clearly show how the usage of voice search increases with the education. The postgraduates and college graduates are at the top in every section of usage parameter.
Now, it's time to move on to the next section where we will discuss how people tend to use online search with their smartphones. Let' get started,
How People Prefer Searching Online With Their Smartphones?
In order to find out the weight of voice search usage, Stone Temple researchers speculate the entire usage of online searching. The first choice of performing online searches are clear with this graph.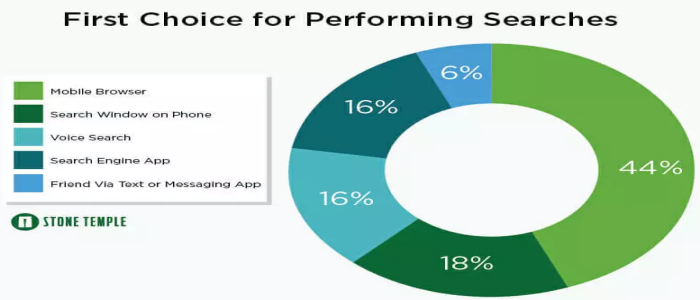 The question was simply phrased as, "
When I need to look up information, I am most likely to … (Please rank your top three choices).
" The choices were,
Use The Search Window on The Phone
Ask A Friend Using Messaging app or text message.
This clearly reflects that the use of voice search is growing. Yes, the mobile browser search is still preferred but still there is a fair amount of hike in voice searches. You can expect this graph to grow when the year 2018 will end.
Why People Like Voice Searches?
I picked this section of their research because this section clears a lot of doubts surrounding voice search. They phrased the simplest question to the respondents, "
When using a search engine or a personal assistant (Google Assistant, Siri or Cortana) on your smartphone, what do you like most about using voice commands (Please rank your top three choices)?
" The responses are really amazing and clear as well. Have a look at it,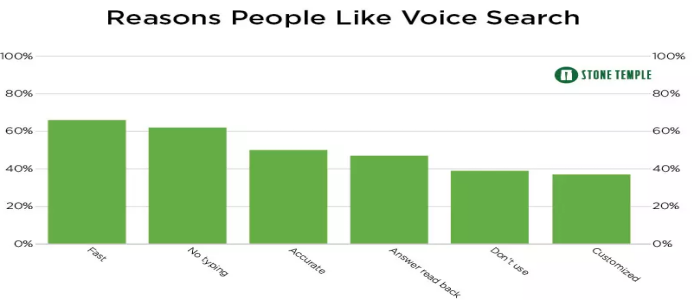 The speed of response clearly cut the cream for voice search. Then it was followed by ease of no typing, then the accuracy, then the read back property. The second last position was acquired by people who don't use it at all.
This section of the survey clears that the superfast nature and accuracy rules for voice search.
The General Outcome Of This Survey By Stone Temple
You can read the full article about
this survey here
. However, still, the insight and the summary is important for a marketer. Everyone who owns a business wants to grow. Voice search is entering the phase where it will grow more emphatically. The era of voice search is upon us.
Let's see what we get from this survey,
Voice command is growing as one of the major ways to search online.
Internet of Things is not far now. By 2020, experts believe that apart from mobile and tablets, you will see many other types of devices that will be voice operated.
The usage of a personal digital assistant like Siri and Cortana will increase.
People are more comfortable with voice search in comparison to 2017.
Male Users are voraciously using voice search, but female users are increasing their interest as well.
Mobile browsers are still the favourites for online searches.
This survey clears out the Hoax that the trend of voice search is decreasing.
What Is Digital-Muscle Ltd Planning For Voice Search SEO?
There are certain milestones we have set for our clients in order to optimise their website for voice searches.
We Think Like A Human Not A Bot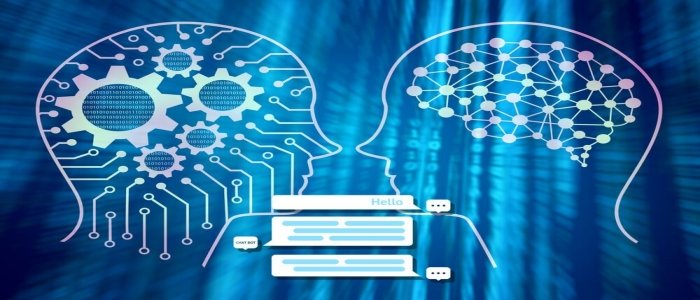 Many SEO agencies in Australia keep their SEO practices to the basics. This results in generic keywords and poor visibility of the website. A poor visibility can crush your online business within a month. In order to avoid the inconvenience, we at Digital-Muscle, believe that keyword research must be according to the trend.
We don't research on keywords for the sake of SEO but for your target audience. We believe in long phrase keywords and conversational keywords. Conversational keywords can help you in ranking well for voice searches
Question Phrase Is Awesome For Us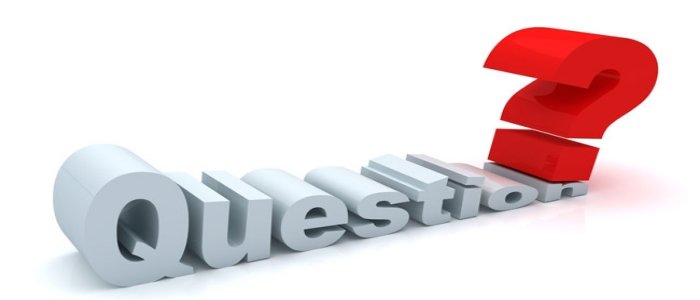 A voice search mostly ends up with a question in the end. We make the target keywords as a question phrase so that you can come at top of the search result when someone uses voice search.
We analyse your target audience and then come up with an approach that will rank you higher in the voice searches.
We understand The Importance Of Microdata

Microdata like business address, phone number, an email address is really crucial. People tend to look for your business location and other general information that will help them to picture you digitally.
Apart from microdata, we also emphasize on the mobile-friendly design of your website to make sure that when someone searches you online on mobile devices, you don't disappoint them.
Over To You
So, voice search is increasing like a wildfire and sooner or later it will cross path your business website. How will you tackle that situation is entirely upon you and your SEO strategies. Let Digital-Muscle build your SEO strategies and spawn you for the upcoming voice search revolution. Till then, have a good one mate.
Reference:
stonetemple.com/voice-usage-trends/

searchenginejournal.com/use-voice-search-public-rise-according-2018-study/233883/

neilpatel.com/blog/seo-for-voice-search/

crazyegg.com/blog/optimize-voice-search-siri/