Jeff Bezos, the world's richest man to date, shared a glimpse of his mindset every time he undertook a new project.
In the 3
rd
quarter of 2018, Amazon's estimated value reached 1 trillion USD. A first for an e-commerce store. The founder of Amazon and Blue Origin, and Washington Post's current owner has come a long way from where he started. Undeniable, however, is his skill in spotting and cultivating breakthrough ideas and turning them into reality.
Coming Up with Ideas
n the matter of idea generation, Bezos said: "We have to have a differentiated idea. It can't be a 'me too' offering. We're gifted with some very large businesses we've built over time, and we can't afford to put our energies into something that if it works, it's still going to be small. […] Even at a substantial scale, it has to have good returns on capital."
On Branding
When buying from a company or store, it is rare for customers to recall the face of the owner and the staff. What he remembers is the quality of your service – how you or your staff treated him the moment he stepped inside the store to the time he completed his transaction.
Furthermore, when scrutinising the pros and cons of a particular product or service, people focus on the brand – not necessarily the owner or the employees!
Jeff Bezos reminded us that a brand is basically "what people talk about when you are not in the room." That is why it is important to monitor the quality of your products and services at all times. It leaves a good impression on your loyal clientele and potential customers.
The face value of your brand should be your priority, but note that you also need excellent employees to help you achieve this goal.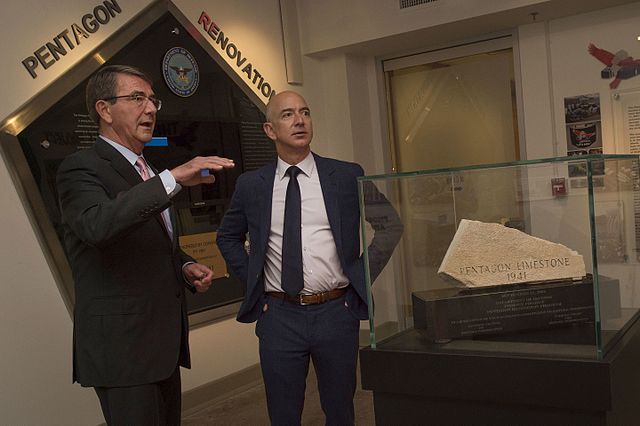 On Success in General
Success is something entrepreneurs and everyone in the labour force hope to have.
Bezos' mantra with regard to success was along the lines of tenacity and the ability to keep moving forward. He said: "...I'll say, 'Thank you, but that quarter was baked three years ago.' I'm working on a quarter that'll happen in 2021 right now."
Many successful people swing back and forth. They succeed once, stop there and then complain about how short their success is.
In Bezos' language, real success is to widen your horizons and keep challenging yourself. He clearly is an advocate of continuous growth and expansion.
On Customer Service
Customers are the lifeblood of every business. The Amazon founder has always been keen on keeping customer satisfaction a top priority.
For the world's richest man, customer satisfaction helps gauge your company's performance. When carried out using the right strategies, customer satisfaction can give any company a competitive edge over its competitors.
Amazon's customer-friendly service was – much to the staff's surprise – one of the factors that catapulted the company to massive global success. And everyone knows why now.
According to its founder: "The best customer service is when your customer doesn't need to call you."
Companies should have a compelling customer service. No customer should be calling to complain about an issue. You should be asking for feedback instead so you can improve your company and better serve existing and potential customer base.
---
Source: [1]