Many entrepreneurs, investors and professionals build websites to increase their profits and create a brand online. But the digital space can be baffling at times. Clients without marketing experience often ask: ➲ How long does it take to build a website? ➲ How much does it cost to build one?
Every successful website undergoes a process. Websites rarely get to the top of search rankings by sheer chance. There is some deliberate goal behind their creation – often with target users in mind.
Before answering the questions above, know the basic steps for building a website: 1. Identify your niche or category. 2. List down your target markets. 3. Create a concept that attracts visitors and customers to your website. 4. Get a domain name. 5. Select a web host and server location. 6. Produce a design for the entire website within the Wireframe system. 7. Design a page blueprint through Wireframe and test it for user experience (UX). 8. Ask your resident developer to make an interactive front end using CSS3, JavaScript, Html5 and other coding language. 9. Select a content management system that gives you full control over the content you publish. 10. Populate your site with the right content. 11. Incorporate on-page SEO strategies (internal links, keyword optimisation on headers and image ALT texts, geo-targeting) 12. Add images, banners, share buttons or any other on-page features. 13. Do the final touches and check for quality. 14. Launch your website.
These steps are not set in stone. They do give you an overview of how much money to spend or how much work needs to be done just to get a website up and running. If you're building a high level website, the process will be longer.
Website Design and Building Process
How long does it take to build a website? There is no set answer to this question.
Duration for building a website usually differs from one campaign to another. Your digital marketing priorities and design preferences, for instance, may also increase or decrease building hours.
A simple website will not take more than 150 hours on average. Advanced websites need more time, however. Factor in the site analysis and SEO audit process and 150 hours will not be enough.
Business owners, entrepreneurs or individuals looking to have their own site should avoid rushing the building process. Understand that building a website takes time because of these factors:
Intricacy of website layout
Some clients prefer minimalist designs while others like their websites to look more avant-garde. Minimalist websites adopt a simple layout and do not require too many on-page elements. They're easy to build. In fact, you can build a basic website within hours or days using a drag-and-drop web builder. Sites like Weebly, Wix and Yola allow users without design or coding knowledge to create custom websites for free.
But if you want a stunning website with animated graphics and high resolution images, a simple layout won't cut it. You need professional assistance. Only experienced designers and developers can deal with complicated website infrastructure. Unlike simple websites built through drag-and-drop builders, high-end websites usually take time – approximately 3 weeks or more.
Number of web pages
Web pages often depend on how much information you want to share to visitors and potential customers. When you have a lot of products and services to offer, you are likely to build more pages.
It is easier for web designers to build a page for each product or service line instead of cramming information into a single page. This approach helps retain the attention span of customers seeking further information. The caveat is that multiple pages add up to your website building hours.
Coding language
Hybrid designs that contain a combination of different coding languages are time-consuming. If you do use a content management system platform like WordPress, this takes some load off your developer or designer's shoulders.
Websites powered by WordPress make use of HTML and CSS – the easiest languages to code according to surveys. From the average 12 weeks (for professional websites), you could reduce the building time to 3 or 4 weeks.
Dynamic pages and on-page elements
Setting up social media plugins, revolving sliders, page transitions, animated navigation menus and other interactive features require time. Even if you use a simple layout and a user-friendly CMS, these on-page elements need to be designed and developed carefully. Otherwise, they will cause loading and navigation issues for your site.
Web content volume
Once you've covered your website's design, size and functionalities, the final step is to populate every page with content. Before going live, ask a copywriter to place suitable content on designated pages.
Unless you want to do the writing yourself, you will have to clearly instruct your copywriter on what content to place on what page. Details about your company history and product and service listings may cause some learning curve. So make sure to supply your copywriter with enough data and wait for them to finish within a reasonable time.
Read more about website building here.
Cost of Building a Website
Always consider your budget before building your website. If you have no budget for web redesigning or building a quality website, use a drag-and-drop builder online. Many such builders offer free templates and subdomain names but may charge a fee for web hosting and custom domains.
While fast and easy website builders are convenient, they can only do so much. Though there is ease of use, mobile responsiveness may be an issue (unless you upgrade to premium). Features and functionalities will also be limited. You cannot do as you please when you're dealing with free templates.
If you want an awesome and functional website, be willing to invest an amount commensurate to your desired quality. Professional web design agencies normally charge 20 to 40 dollars per hour. Some agencies charge a fixed rate or based on how much work is needed.
Naturally, professional websites would cost you more than a website building software. These are websites created by experienced professionals. And they go through rigorous hours of scheduled work to understand your business and create a suitable concept for your site. You're not just paying for the website here, but you're also paying for their skills and their labour.
But here's the reality:
➲ Price for building a website will depend on estimated working hours. ➲ Design and development work will depend on the process. ➲ The entire process will depend on customer's preferences or actual digital marketing needs.
The breakdown below is only for paying clients willing to hire a website designer instead of using a website builder: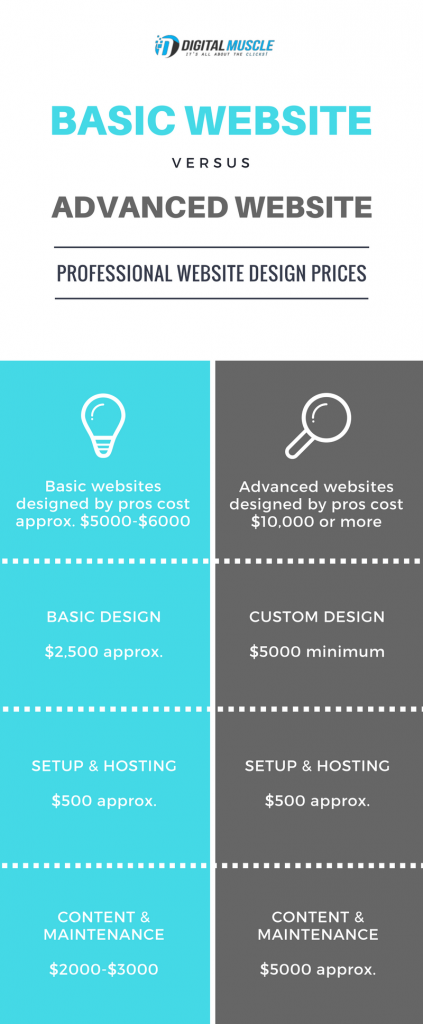 Compared to the profit you'll earn once your website gains traffic and a steady client base, spending $10,000 or more is not much. Professionally designed websites will always be worth the investment. Moreover, if you incorporate content marketing and search engine optimisation (SEO) into your web design, you can double your returns.
Advantages of hiring web design professionals:
More creative freedom
Professional websites don't use an existing template. They always begin as a blank canvas. Which means there is no limit to the possibilities before you. You can be as innovative as you want in a bid to attract potential clients. Where UX is concerned, you can go all out, place animated transitions, revolving slides and whatnot as you see fit.
Design that reflects your business
Precoded designs are not easy to customise based on the market or industry you serve. Professional web builders, however, will do their research and analyse your business before diving into the building process. They will focus on colours, layouts and functionalities that customers from your industry are sure to appreciate.
Clean codes
If you're doing SEO at the same time, a professional website will give you more advantage than a template. It takes more time to tweak templates coded by other people than create your own design. Templates tend to be clunky with codes that may not follow SEO standards. While if you create a design from scratch, you can quality check your codes during the building process.
Better branding
Because there's more room for customisation, your website can move in any direction you want to take. Professional web designs have no limits except for their owners' preferences. Unlike templates, professional websites are conducive to continuous customisation. From graphics to layout to content population, you have a say in how you want each element to appear on your page.
This article highlights 3 reasons why you should go for custom web design instead of templates.
SEO Company Australia with Custom Website Design
So you need a website that attracts clients, reflects your business and drives growth, but are not sure where to look. There's only one clear option for you: hire a professional web design company.

Professional web design companies work in a team setting. This means you're not only working with one designer, but you'll have a campaign solely dedicated to your business. This campaign is handled by a campaign manager and supported by a graphic artist/web designer, web developer and, on occasion, a copywriter.

What's more, some web design agencies offer accompanying SEO services. These SEO services are affordable, if not for free. Technical strategies will be applied to make your website appear at the top of search engine rankings. This not only earns you traffic, but you also get clients sincerely interested in your products and services.

With a professional team working behind you, expect a unique and impressive website that converts traffic to actual sales. For a free website design quote, visit https://www.digital-muscle.com.au/.