Since its arrival in the online world, Google has been everyone's best friend. When in doubt, Google to the rescue. We even settle bets with help from cyberspace' most beloved search engine. Thanks to this technological innovation, we can now quickly get answers to just about anything.
Perhaps you
need information about
long-term
pursuits
such as adopting a new diet plan, learning workout
techniques
that generate the best resul
ts or finding new recipes for a personal cooking project.
The old Google setup requires you to retrace your activities by browsing through the History button. Or you can simply click the back arrow button to find the web page you want to return to. You do the same if you want to access Google's search tab to type a new search
or
explore related ideas.
The

G

oogle Activity Card
To enhance user search experience, Google recently launched activity cards. The main purpose of these cards is to assist users in picking up where they left off. The activity card appears only if you are logged into your personal Google account.
All topics, ideas and other information you search on Google will be recorded into your activity card. But make sure you're logged in or no such card will appear. Whether you go to fashion, cooking or travel websites, you can now retrace your steps with ease thanks to this new Google feature.
How Does It Look Like?
The activity card appears right below the search bar and on top of the search results. You can easily spot it because the text is slightly faded. The card says "Your related activities. Only you can see these." Beside the text is a small grey clock icon.
When you click on the text (please see the picture below), your search history will appear in cards. The cards may contain pictures which, when clicked, will automatically redirect you to the last pages you visited.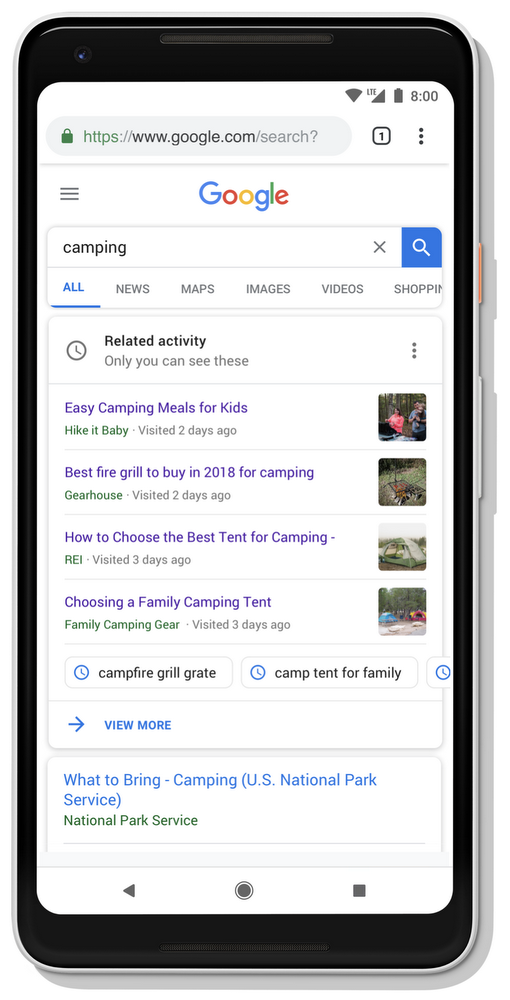 The activity card also allows you to mark a page that you want to reference or read in the future. All you have to do is to click and hold the link and an option to add it will appear on your activity card. You can add as many items as possible to your collection. To access collections, just tap on the menu button on the upper left corner of the Search page (for mobile or tab). If you downloaded the Google app, you can find the menu button on the bottom section.
Other Features To Look Forward To
What other features are there? Well, the Google activity card allows users to control the order of their search activities. Meaning, they can rearrange cards based on their preference. Each card has a 3-dot icon. To turn off or delete, users can simply press these icons.
This feature gives you many custom options. For a better search experience, go to your complete history and settings on the Search bar.
Google activity cards were effectively rolled out in the United States last January 9 on the Google app and mobile. There's no news when this new feature will grace your search bar but look forward to it. It may change the way you browse the Internet.
Future Implications
As you look for ways to develop yourself through new hobbies, undertakings, tasks or habits, the Google team hopes that the new feature can somehow be of use to your day-to-day life. Now it's easier for you pick up where you left off.
No more intense clicking or going over an endless jungle of links on your browser history. With Google activity cards, you can organise links and save your favourite ones for quick access.
Whether it pertains to fitness, fashion or food, Google cards will hopefully give you a better search experience.
---
Looking to improve your website's performance in search engine results? Do you need affordable SEO services in Sydney to get your company name out there? Feel free to contact Digital Muscle, reputable SEO Specialists with a proven track record in the digital marketing and search engine optimisation industry. We have brought sales leads to various SMEs and entrepreneurs. If you have questions or would like to start an SEO campaign, call us now for a FREE quote!