Our strategy also involved a complete website revamp to encompass the latest trends and designs of a modernised website. Being very competitive in the construction industry, a top-notch website design and rankings is absolutely crucial to beat the competition dead in the water.
Additionally, a SEO deep link analysis and Online Market Research were completed and analysed.
This is used to create the On-Page Recommendations in order to strengthen the readability and relevance to the target Keywords.
The strategy was proposed and the campaign 'excavator buckets' implemented.
In July 2019, the SEO campaign was underway and as evidenced by the overall ranking snippet below, the domain of bossattachments.com.au was ranking for some keywords, but not a whole lot.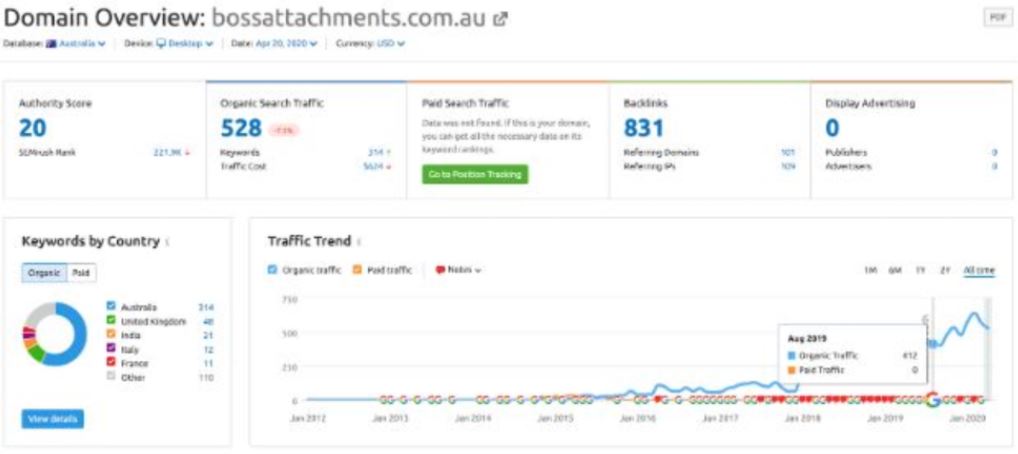 The next steps were to remove some toxic backlinks pointing towards the domain of www.bossattachments.com.au. By using a mixture of useful paid tools such as Ahrefs, Majestic SEO and the Google search console, a handful of links were identified, scrutinised and manually removed/disavowed to restore the natural link profile of the domain.
This whole process of identifying toxic links and removal took approximately 21 days and then after when the toxic links were removed, we further waited for an additional 14 days for the rankings and traffic to improve. Link Building is a very important factor that search engines use to assess rankings and to detect Online Reputation. Done correctly, it further improves a website's authority, relevance and popularity on a subject matter and by effect enhance its Online Reputation.
Quite simply put, we were not satisfied in going neck to neck with BossAttachment's competitors on Google. We wanted to dominate them organically and also enquiry wise.
A monthly campaign with a clearly focused Link Building Strategy was put into effect. This included;
Continued removal of toxic backlinks
SEO Video Links
Image Links
Australian Business Directories
Citations and Reviews
We employed the E-A-T strategy to try and garner more positive reviews online
By February 2020, their organic rankings were at an all time high, supplemented with the fact that their organic traffic also grew, at twice the amount from August 2018.