They say a little knowledge is a dangerous thing. Many web masters,

SEO specialists,

digital nerds and what have you always make the mistake of thinking they know everything there is to know about SEO only to realize that much of what they know about the field is already outdated and no longer applicable. The SEO train moves far too quickly and failing to catch up and getting caught up in old practices can work against any website or web owner. It can be exhausting sometimes. But if you want to have

SEO that really works,

you need to go where the train is.

Here's the real skinny: SEO constantly changes and evolves. Everyone in the

digital marketing

bandwagon knows that. Or do they?

It's a straight path one moment and the next thing you know, it moves to a different track. We used to be concerned with Hummingbird, Panda and Penguin - and then came Pigeon. So when we started trying to guess what sort of animal name the next algorithm would be, Google released Payday and Pirate and we were left scratching our heads.

The good thing is, even though SEO is ever changing, some things remain the same. Content, for instance. How many times have we heard tech gurus spout "content is king"? It may not be the be-all and end-all of SEO but quality and information-laden content is and will always been king, give or take a little algorithm change.

So whether you're a fledgling online marketer or a seasoned SEO specialist, always remember to change with the changing times. And while you're at it, steer clear of these SEO practices that are no longer applicable or are deemed "bad SEO" in the current digital era:
Keyword Stuffing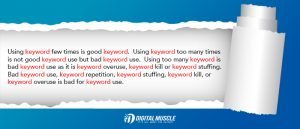 Keyword stuffing is so 2001. Wait – did I hear that right? So SEO is as old as that? Heck, it's almost as old as the Internet. But it wasn't until 2008 that the field really flourished and grew into a new web movement. Still around that time every specialist's view of SEO was too stiff and inflexible. It was a numbers game. The longer your content, the higher your keyword density. Keyword density simply meant repeating the same keyword over and over again no matter how awkward or overly contrived the content sounded. Nowadays, keyword stuffing will get your site flagged by search engines. You'll hardly appear on search engine results pages (SERPs). It's a pointless undertaking that will make you sound nothing but a selfish online marketer. Moreover, keyword stuffing affects content quality and doesn't give value to your target audience. What's puzzling is that content marketing campaigns are still prone to this elementary mistake, either inadvertently or deliberately. Solution? Know the trend and don't confuse keyword density with keyword stuffing. At the moment, Google and even Bing place a lot of importance on keyword relevance. Though keyword density is still important to some degree, instead of repeating keywords at the risk of putting out awkward content, inserting relevant keywords – keywords that really describe or are related to your website or business – and dispersing them across different pages or paragraphs would be more advisable. Search engines have already graduated from simply reading pages and are now capable of understanding what a page is about.
Not Updating Website Infrastructure
Not to go deeply into uncharted territories such as web programming, but

website design

and structure can affect SERP rankings. What we need to understand is that SEO has reached a point where it's not enough to just launch a website with optimized content and a design that complements your business or the products and services you're trying to sell. The website infrastructure itself must be SEO-friendly.

Meaning, you're not just tweaking the meta tags with quality titles and descriptions, your website's infrastructure (i.e. HTML and CSS coding) is actually easier for Google or any other search engine to crawl and cache. Old coding styles used meta keywords and had a lot of inline CSS. These days, search engines ignore meta keywords and frown at multi-page websites with inline styles, heavy plug-ins and flash documents.

Websites with multiple pages are often advised to lower their bounce rates so it's easier for both search engine bots and end users to navigate through the site. If a multi-page site has a high bounce rate or is slow to load, this will not be good for users who tend to open many websites at the same time. Users don't want to waste their time on slow websites.

Below are some of the qualities of an ideal website infrastructure:
Has a design that search engines can easily crawl and cache

Updated HTML and CSS coding style

Can be accessed through any kind of device without having to create different websites for desktop, mobile and tablet

Passes the W3C school markup validator

Has rich snippets from Schema.org

Main images have descriptive alt tags (with carefully placed keywords, where applicable)

Has a helpful 404 Error page

Has a RSS or XML sitemap

Presence of a Robots.txt file to define crawling scope and limitations

Has a sub domain site (for those doing intensive SEO)

Proper order of header tags (many websites disregard H1 tags or have too many H1 tags, either of which is not good for SEO)

Shareable with social media buttons
Random Link Building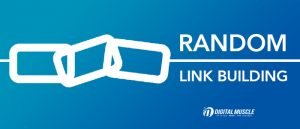 So many SEO specialists underestimate the power of good link building. It's a new era of digital marketing already but link building is still carried out randomly in certain quarters. More than just sprinkling links to your website here and there, link building should be strategically placed within and outside of your website.
Internal Linking
Internal linking

coincides with the principles of on-page SEO. If you are familiar with on-page SEO, this means all your linking efforts transpire within the confines of your website and not outside of it. Internal linking has three components:
Inter-page links – Links going directly to other pages of your website.

Intra-page links – Links to sub-headings within a page of a website.

Links to external sites – Links within your web pages going to other websites or web pages.
You can use anchor texts for your internal link building or add sidebars containing links to related external sites and key pages of your website. Having a sub domain site helps particularly if SEO audit tools recommend that you work more on your internal links. If your web pages are placed within the sub domain, these pages are still considered internal links by Google's algorithm even if another Google algorithm treats such sub domain as a separate website. You have the option to use a sub domain for your internal blog. On a marketing perspective, this gives you the freedom to express ideas and discuss topics that you otherwise cannot express and discuss if your blog were attached to your domain.
External Linking
External linking

coincides with the principles of off-page SEO. In this kind of linking strategy, links to your website are placed on other websites or web pages such as blogs, online directories, listings, article submitter sites and other external web sources.

Whether you're doing internal or external linking, make sure not to go overboard with your link placement. If an internal page contains an excessive number of links and too little content, Google will tag it as spam and your website may be penalized or demoted in the SERPs.

Websites doing SEO also have the tendency to abuse external linking, While having external links is necessary for increasing online visibility, placing links on sites that are not relevant to your niche or inaccessible to your target market may help pull up your rankings but getting the customers you want is another story.

Be mindful of the following when pursuing an external linking

SEO strategy:
If you're submitting a URL to a directory site or an article submitter site, make sure your link is submitted under the correct category.

Avoid generic link submitters; this is like putting a needle in a haystack.

Do not use automated mass linking tools if your business belongs to a specific niche or your target market is small.

When guest posting, make sure to publish your content to a blog or site with a considerable following for a better conversion rate.

If you must automate, try email outreach; but first, craft a solid outreach letter with links to your website, blog and important social media pages.

Social media is a great source of traffic so maximize your use of Twitter, Facebook, Google Plus, Instagram and LinkedIn among others.
There are many other SMH-inducing SEO practices that people still use for the sake of generating traffic to their site. While it was easy to circumvent algorithms in the past, SEO trends these days have long since evolved from quantity and mass production to quality, easy access and valuable information that users can actually benefit from. Black hat techniques are therefore out of the question. But if all these SEO jargon are giving you migraines, just focus on quality and value and everything else will fall into place. Or better yet, look into

affordable SEO services

online for some backup.